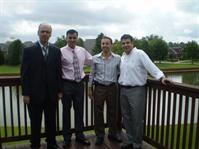 About Maher Abdulla, MD
MultiSpeciality office
Internal Medicine,Family Practice,Infectious Disease, and Hospital care
Primary Specialty
Internist
Practice Comprehensive Care Medical
Gender Male
Years In Practice 19
Education Kuwait Univ, Fac Of Med, Hlth Sci Ctr, Kuwait
Training Seton Hall U Sch Grad Med Ed, Internal Medicine
Staff Maher A Abdulla MD
Mousa Al Wawi MD
Iyad Al Husein MD
Ayman Rihawi MD
Affiliations Houston Medical Center
Warner Robins , GA
Certification American Board of Internal Medicine
1996-2006
2006-2016
Services Maher Abdulla, MD provides internal medicine in Warner Robins, GA. Maher Abdulla, MD is listed as an internist, which is a physician who studies Internal Medicine for adults.

To learn more, or to make an appointment with Comprehensive Care Medical in Warner Robins, GA, please call (478) 971-2130.
Consumer Feedback
View All

45

Reviews
Add a Review
Recent Reviews
Dr. Al Wawi is rude and does not respect you in any way. He cares moe about hearing his voice then hearing your concerns. He likes to be little you and m... Read more
by
arose4you
XXX.XXX.153.106
September 20, 2012
Recent Polls
How would you compare this provider to others in his/her field that you have visited?
Among the best I have seen