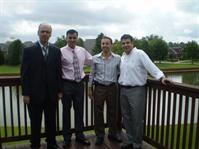 About Maher Abdulla, MD
MultiSpeciality office
Internal Medicine,Family Practice,Infectious Disease, and Hospital care
Primary Specialty
Internist
Practice Comprehensive Care Medical
Gender Male
Years In Practice 18
Education Kuwait Univ, Fac Of Med, Hlth Sci Ctr, Kuwait
Training Seton Hall U Sch Grad Med Ed, Internal Medicine
Staff Maher A Abdulla MD
Mousa Al Wawi MD
Iyad Al Husein MD
Ayman Rihawi MD
Affiliations Houston Medical Center
Warner Robins , GA
Certification American Board of Internal Medicine
1996-2006
2006-2016
Services Maher Abdulla, MD provides internal medicine in Warner Robins, GA. Maher Abdulla, MD is listed as an internist, which is a physician who studies Internal Medicine for adults.

To learn more, or to make an appointment with Comprehensive Care Medical in Warner Robins, GA, please call (478) 971-2130.
Consumer Feedback
View all

45

Reviews
Add a Review
Recent Reviews
Dr. Al Wawi is rude and does not respect you in any way. He cares moe about hearing his voice then hearing your concerns. He likes to be little you and make you feel like you are a child. The place inside is nasty the staff is nice to a point if you make an after hours call your better off just going to the hospital because they will not call you back. He is just in it for the money and not for your health in anyway! The magazines in their waiting room were so boring. It made my time in the waiting room drag. It's shocking how little they seem to care about customer service. From my experience It appears as if customers are never put first here. The staff is incredibly rude and seem to care more about themselves. The equipment was so outdated and old that it was borderline dangerous. I was scared for my safety. I have never seen a coupon for this provider, nor do they ever have specials or promotions going on. I don't think they like to help people save money. I was hoping that they would be sympathetic to my situation and understand where I was coming from. Instead, they made it completely obvious that they didn't care about me or what I had been through.
by
arose4you
XXX.XXX.153.106
September 20, 2012
Dr. Abdulla is the kindest, most thorough physicial I've ever dealt with. I have been going to him for over 12 years, and have recieved nothing but the finest of care. His attention to detail and personal concern for my well being gives be the utmost confidence in the care I recieve. Sometimes the wait may be a little long, but it is because when a patient requires additional information or examination, he does what is necessary for each patient. I have appreciated it when he's taken the extra time when I needed it, and I understand that is a necessary part of this wonderful physician's manner.
I always have the best experience every time I have an appointment here. Although I have not had much to complain about, I have noticed that they strongly adhere to the customer is always right policy and if anything goes wrong make every effort to correct the situation. I've never had to worry about them being understaffed or not being able to help me right when I need it. They have a huge staff that's very knowledgeable and qualified. I was confident that they were using the latest treatment methods. I got an appointment quickly. I've never had to wait too long. The staff really knows what they're doing, and they know a lot about the company they work for. They're able to answer most of my questions.
by
dwayne ferguson
XXX.XXX.144.55
February 06, 2012