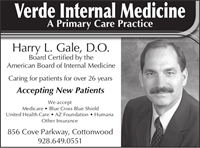 About Harry Gale, DO
The philosophy of Verde Internal Medicine revolves around being uncommonly good at treating common problems. Although care by a specialist can be very important at times, most patients want the majority of their care from one physician and are not interested in having an array of physicians.

Interacting with the medical delivery system can be a daunting task for the uninitiated. We feel it is our duty to help the patients to be comfortable with the process. The physician as teacher is always practiced.

Listening is the most important tool that is used. It has been said that" if you listen to the patient long enough, they will give you the diagnosis".

Most people just hope for unconditional acceptance of them as an individual.


Certainly, we are ever mindful of the standards of care which prevail throughout the medical community.

Primary Specialty
Internist
Practice Verde Internal Medicine
Gender Male
Education Des Moines Univ, Coll Osteo Med & Surg, Des Moines Ia 50312
Training Maricopa Med Ctr, Internal Medicine
Services Harry Gale, DO provides internal medicine in Cottonwood, AZ. Harry Gale, DO is listed as an internist, which is a physician who studies Internal Medicine for adults.

To learn more, or to make an appointment with Verde Internal Medicine in Cottonwood, AZ, please call (928) 649-0551.
Consumer Feedback
View All

7

Reviews
Add a Review
Recent Reviews
Most of the time, they don't call me back for quite a while, but they've called me back quickly once or twice. It never fails how long I have to wait on hold when I call them. I'm always put on hold f
Recent Polls
Were you able to get answers to simple questions from this provider without scheduling an appointment?
Yes
Would you recommend this internist to others?
Yes
by
Anonymous
xxx.xxx.36.74
December 09, 2013
Add a Review