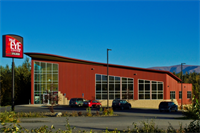 About Wolf Eye Center, Inc.
The Valley's only complete optical, vision, medical, and surgical eyecare destination...

You'll see the difference!
Primary Specialty
Ophthalmologist
Practice Wolf Eye Center, Inc.
Gender Male
Education Umdnj-Robt W Johnson Med Sch, New Brunswick Nj 08901
Training Univ Of Ut Med Ctr, Ophthalmology
Services Wolf Eye Center, Inc. practices in Wasilla, AK. Ophthalmologists examine and treat common vision disorders, eye injuries and eye diseases. Ophthalmologists such as Wolf Eye Center, Inc. are licensed medical doctors and can prescribe medication as well as perform eye surgery.

To determine if Wolf Eye Center, Inc. can help you, please call the Wasilla, AK office at (907) 376-2020 for more information.
Consumer Feedback
View all

3

Reviews
Add a Review
Recent Reviews
by
Anonymous
XXX.XXX.136.140
February 18, 2013
Not only do my appointments never get canceled last minute, they take time out of their day to send me a reminder so I don't forget. They are extremely reliable. The restrooms at this office were spotless. It smelled amazing in there and looked immaculate. The waiting area here is extremely spacious. There is never overcrowding and everything is spaced appropriately.

Great doctors and great staff. Most thorough exam I have ever received. I have been there a few times for different ths and never had any issues. I have even sent my husband and other family members here and they were impressed too. I won't be going anywhere else, I am very happy.

by
Anonymous
XXX.XXX.177.214
July 25, 2011
by
Anonymous
XXX.XXX.9.251
May 05, 2011