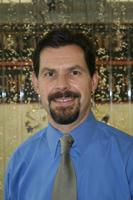 About Stephen Ludwig, DMD, MS
Dr. Stephen E. Ludwig is a respected provider of orthodontic care in the Concord & El Sobrante, California area. Our practice's top priority is to provide you the highest quality orthodontic care in a friendly, comfortable environment. We utilize the latest technological advances in the industry such as self-ligating braces, clear ceramic braces , Invisalign and Invisalign Teen, to ensure that you receive the most effective care possible.

We recognize that every patient has different needs, and we pride ourselves in the courteous service we deliver to each person who walks through our door. Whether you're an adult, adolescent, or child, our knowledgeable doctor and team are committed to helping you achieve the beautiful, healthy smile you deserve!
Primary Specialty
Orthodontist
Gender Male
Education Dr. Stephen E. Ludwig graduated from U.C. Berkeley with a Bachelor of Science degree in Entomology in 1981. He attended Washington University School of Dental Medicine in St. Louis, Missouri, where he finished first in his class and earned his Doctor of Dental Medicine degree in 1986. Dr. Ludwig returned to California to complete orthodontic training at UCLA School of Dentistry, and received his Masters degree in Oral Biology in 1988. In 1993, Dr. Ludwig relocated to Northern California, where he currently practices in Concord.

Dr. Ludwig is an active member of the Contra Costa Dental Society, the American and California Dental Associations and the American Association of Orthodontists. Dr. Ludwig has been active in the Rotary organization and enjoys spending personal time with his wife and two sons.
Services Stephen Ludwig, DMD, MS is listed as an Orthodontist located in El Sobrante, CA. An Orthodontist specializes in dental work to correct or prevent teeth and jaw misalignment. Orthodontics include the application of metal and ceramic braces as well as colored and clear braces to improve dental appearance and jaw alignment.

Please call Stephen Ludwig, DMD, MS at (510) 223-3080 to schedule an appointment in El Sobrante, CA or to get more information.
Consumer Feedback
View All

2

Reviews
Add a Review
Recent Reviews
They are completely committed to helping me as long as it takes to find the best solution. I never have to worry that they'll back out or give up if a solution isn't reached immediately, which has bee
Recent Polls
Did this provider seem well-trained and experienced?
Absolutely, they were an expert!
by
Anonymous
xxx.xxx.216.249
March 20, 2013
Add a Review