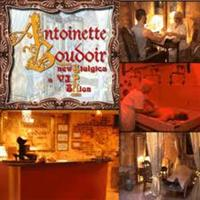 About Clara Raykin
In New York City (NYC), stress could be sometimes up to neck level. People work hard that they oftentimes forget about themselves. Fortunately, there are now different relaxation methods and stress removal techniques such as colonic hydrotherapy which detoxifies the body.
Ever wondered where can you find a place for relaxation?
Antoinette Boudoir Newstalgica Spa is a spa that evokes the luxury of the boudoir of Marie Antoinette, the legendary queen of France. Renowned for her beauty and style, the young queen historical books lengthily discuss, did not spare a cent when it came to glamour and comfort. This tradition is very much upheld at Antoinette's Boudoir, a full-service day spa in Manhattan offering body treatment, facial and body massage, and so many other treatments that will truly delight you.
Come and let us pamper you in royal fashion in our very own luxurious, private boudoir. We are bound to amaze you with our excellent services and luxurious decor! Transform your mind and body through a unique holistic manner achieved by the seamless blend of science and natural aesthetics. We respond to couples or individual needs so come and allow us to create a new you.
What does Newstalgica mean?
It is the latest in skin care art technology (new) combined with wellness formula culled from the wisdom of the ancient world (nostalgic).
Our completely organic spa offers a full range of face, skin, and body therapies for men and women such as massage, airbrush tanning, wax, facials, manicures and pedicures, and holistic detox treatments known to be colonic: colon irrigation, colon therapy or colonic hydrotherapy spa, microdermabrasion, ear candling, energy healing, organic juices, and an oxygen bar. Antoinette Boudoir Newstalgica Spa isnt just any spa, we offer the best colonic detox hydrotherapy in New York City (NYC). Consult our online nutritionist then sign up for our special detoxification and purification programs. We offer special express body and foot spa packages that would fit couples or persons individual needs. Our 40-minute treatment is especially designed for busy people while a 4 to 5-hour treatment can be availed by those blessed with the luxury of time in the world.
Antoinette Boudoir Newstalgica Spa proudly serves places in Manhattan, Midtown NY, and New York City (NYC).
We help soothe away life's hardships by transforming our clients high negative energy into a positive one through the art of cutting-edge luxury SPA treatments.
Liberate yourself to a new experience from Antoinette Boudoir Newstalgica SPA.
Gift Certificates are available for any of our services. We accept cash, Master Card, Visa, American Express, and Discover Card.
Primary Specialty
Massage Spa
Practice Antoinette Boudoir Newstalgica SPA
Services
Hot Stone Massage,Shiatsu,Deep Tissue Massage,Prenatal Massage,Cranio Sacral Massage,Reflexology,Lymph Drainage Massage,Aromatherapy Massage,Algae/Seaweed Wrap,Mud or Fango,Glycolic Acid Facial,Oxygen Facial,Acne Facial or Therapy,Collagen Facial,Gentlemen's Facial,Manicures,Pedicures,Waxing,Sauna,Robes Provided,Slippers Provided,Showers,Hydrotherapy,Infrared Sauna,Sunless Tanning
Consumer Feedback
View all Reviews
Add a Review
Recent Reviews
They made sure every single question I had was answered, and are always available if I think of any more questions I want answered. I've never had to worry about them being understaffed or not being able to help me right when I need it. They have a huge staff that's very knowledgeable and qualified. They're really great about taking their time with me, and they don't mind answering my questions. I've never felt like an annoyance to them no matter how many questions I have. Their office was well organized and clean. I could tell they took a lot of time making sure it was presentable. I'm always amazed at how considerate and concerned they are for my well-being. Their advice is always wonderful and completely unbiased.