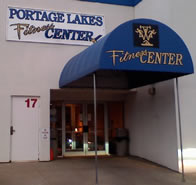 About Karen Rohler, Manager
Established in 1985, Portage Lakes Fitness Center (PLFC) today is a collaboration of the Coventry Township Local School District and the Akron Area YMCA. The school district owns the facility, and its operations have been managed by the YMCA since October 2009. PLFC's employees are YMCA staff members trained to uphold the Y's mission and standards. The center currently has a staff of about 30 including management, aquatic, floor, desk, maintenance, exercise instruction and personal training professionals.

PLFC is Unique among fitness/wellness centers in the area. It is family facility for ages 10 and up (youth must be accompanied by parents). It is equipped with more exercise amenities—both land and water—than most others. And unlike many places, regularly scheduled classes at PLFC are free for members!

Join Us and See Why people consider us more than a gym or health club. Work out and have fun with "our family" of members and guests—from Coventry, New Franklin, Green, Barberton, Clinton, Springfield and beyond!

We also offer Massage Therapy, Personal Trainers, Pilates Reformer, Swim Lessons, Child Watch, and Pool or Gym Rental for Your Event!
Primary Specialty
Health Club
Practice Portage Lakes Fitness Center
Years In Practice 31
Certification ACE, NETA certified aerobics instructors.
Services Facilities include indoor track, treadmills, ellipticals, steppers, cycles, free weights, weight machines (Nautilus, Cybex, etc.), aerobics studio, racquetball, 25-meter pool, sauna, steam room, whirlpool, locker and shower rooms.

We have nearly 40 per week, including Step Aerobics, Tabata, Aqua Aerobics, Cardio Kickboxing, Cycling, Hi/Lo Impact, H.I.T., Yoga & Pilates, Aqua Yoga, Zumba®, Silver Sneakers® MSRM, Aqua Arthritis … and many more.
Additional Services Yoga, Aerobics classes, massage therapy, personal trainers, child watch, swim lessons, pool and facility rental
Consumer Feedback
View All

4

Reviews
Add a Review
Recent Reviews
We've belonged to many spas and health clubs before. This is so close to us we can use it often and 24/7. Love it.
by
Ed and lisa
xxx.xxx.44.88
January 13, 2016
Recent Polls
Does this provider promptly return your phone calls?
Definitely! They always call me back very quickly!
by
Anonymous
xxx.xxx.151.195
April 19, 2013
Did this provider answer all of your questions?
Every question I had was answered thoroughly
Add a Review