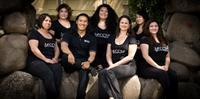 Nearby Specialists - Call Now sponsored
About Christine Smith, Chiropractor
Christine Smith, Chiropractor practices as a Chiropractor in South Pasadena, CA.
Primary Specialty
Chiropractor
Practice Family Chiropractic Center of So. Pasadena
Gender Female
Years In Practice 15
Services Christine Smith, Chiropractor practices at 1017 Fremont Ave, Suite A, South Pasadena, CA 91030. Chiropractors diagnose and treat common spinal misalignments that can occur from lifestyle or injuries causing pain, discomfort and degenerative conditions.

Christine Smith, Chiropractor may be able to treat; back pain, sciatica, neck pain, shoulder pain, headaches, sports injuries, and auto accident injuries.

To learn more, or to make an appointment with Christine Smith, Chiropractor in South Pasadena, CA, please call (626) 441-4888 for more information.
Additional Services Therapy, Massage
Consumer Feedback
View All

3

Reviews
Add a Review
Recent Reviews
Dr. Pujiyama and Dr. Christine took care of me after I had a bicycle accident where I lost my front wheel and bounced twice on my head as I got rushed to the intensive care unit with serious neck and
Recent Polls
Did this provider pressure you to purchase any unnecessary products during your visit?
Absolutely not! I was never uncomfortable
Does this provider adhere to the customer is always right policy?
Yes, they listen to all complaints and make every effort to correct the situation.
Add a Review