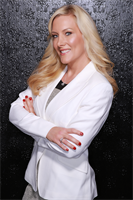 Nearby Specialists - Call Now sponsored
About Faith Leuschen, D.C.
Dr. Faith Leuschen practices as a chiropractor in Torrance, California (CA). She has a keen sense for ailments on several realms and performs one of the most extensive personal histories and examinations in the field. With her background in body building, biomechanics, anatomy and neurology she has gained a wealth of knowledge in getting people back to functioning to their highest degree. What ever is Paining you, Dr. Faith Leuschen will help. For what she can not help you with , rest assured you will get a great referral that is exceptional for your condition. She is open to co-treat with your existing doctors. She works beyond what other chiropractors put out. Optimal Health, Cellular Nutrition, Exercise & Stretching needs with Instruction and Pain Relief or better yet Resolve is what her goal is for you! That is the corner stone of Total Body Balance! She trains doctors from across the nation in a varied of techniques and has plenty of her own techniques that she reserves for her personal patients. She treats not only the most severe neck and back pain, but also headaches of all kinds, expert with shoulders and knees, hip pain, arm and leg pain, ankle and foot pain. She also treats the symptoms of digestive problems, insomnia, anxiety and depression, brain fog, short term memory loss, Fibromyalgia, MS, Lupus and Post Stroke victims. She accepts car accident victims, pre and post surgery patients, workers compensation patients and she is versed on all the paperwork and legal sides of these matters. For an expert in pain relief and much more... caring and compassionate chiropractor in Torrance, California (CA), please contact Dr. Faith Leuschen today. She will be on your Team!

Primary Specialty
Chiropractor
Practice Total Body Balance
Gender Female
Years In Practice 20
Education 01/01 to 09/04 Emperor's College of Traditional Chinese Medicine, Santa Monica, CA

08/93 to 12/96 Los Angeles College of Chiropractic, Whittier, CA

08/87 to 12/92 CSULB, Long Beach, CA





Training 2009 NRCT Neurologic Relief Center Technique

Seminars and Trainings taken outside of LACC:

NRCT
Applied Kinesiology 200 hours completed
Sports Rehabilitation
Worker's Compensations
Industrial Injuries Certificate
Chiropractic Care for Pregnancy and Pediatrics
Biocranial
Cranial Sacral
SOT
Gonstead
Thompson Technique
Flexion Distraction
Cellular Nutrition
Live Blood Cell Analysis
Reflexology
American Indian Medicine
East Indian Medicine

Services
Dr. Faith Leuschen, an experienced chiropractor in Torrance, California (CA), uses various techniques such as, but not limited to Diversified, Applied Kinesiology, the Neurologic Relief Center Technique, Biocranial, Cranial Sacral, SOT, Thompson, Biophysics, Gonstead, Therapeutic Exercise, Neuromuscular Re-Education, Nutritional Cleanses, Exercise and Massage to relieve the most difficult cases. She can help with physical conditions including sciatica, sports injuries and work-related injuries. Dr. Leuschen makes patients feel comfortable in her clean and relaxing atmosphere and constantly strives to make a significant difference in the quality of her patients lives. If you are looking for a chiropractor in Torrance, California (CA) please contact Dr. Faith Leuschen today.
Consumer Feedback
View All

29

Reviews
Add a Review
Recent Polls
Did this chiropractor pressure you to return for unnecessary follow-ups?
Not at all! They always respect my decisions.
by
Anonymous
xxx.xxx.231.134
March 29, 2013
Did this provider's staff seem to respect him/her?
Definitely! They staff spoke very highly of him/her
by
Anonymous
xxx.xxx.177.225
March 28, 2013
Add a Review