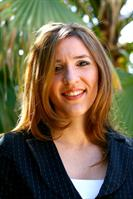 About Alyssa Chicci, RD, CDE, CLT
Are you ready to become healthy but are looking for the best person or program to help you? Perhaps you're overweight but have not yet found a diet program that works for you long-term? Maybe you have diabetes or prediabetes, high blood pressure, or high cholesterol, and you want to improve your health naturally so you don't have to rely on medications? Or perhaps you suffer from irritable bowel syndrome, migraines, or fibromyalgia, and so far treatment has not provided the relief you're looking for?

I provide nutrition plans and programs that transform your lifestyle from one that has produced your current state of health to one that promotes the healthy body that will facilitate the life you wish to lead. Many of us don't eat the right foods because we as a nation live in an unhealthy environment that provides excess calories and few daily opportunities for movement. And for more and more of us, even healthy foods can trigger symptoms due to food sensitivities. For these folks, I use the best food sensitivity test on the market to create a diet that effectively wipes out these symptoms.

Call me for a free consultation to hear more about my services and see if we might be a good fit together. I have a large network of dietitians, so if I'm not the right person to help I likely can refer you to someone who can. Visit me at my office or receive the same quality of service no matter where you live through phone communication or Skype.

Don't let another day go by without having the tools and support you need. Call or email me today; I would love to help you.

Primary Specialty
Dietitian - Nutritionist
Practice Nutrition Resolution, LLC
Gender Female
Years In Practice 11
Education Graduated from Arizona State University in 2003 with a B.S. in Dietetics.
Training Completed a year of supervised practice at Patton State Hospital in San Bernardino, CA.
Affiliations American Dietetic Association (ADA), including the Diabetes Care and Education practice group and the Nutrition Entrepreneurs Practice Group, Central Arizona District Dietetic Association (CADDA), and the American Association of Diabetes Educators (AADE).
Certification Passed the registration exam through the Commission on Dietetic Registration in November of 2004, became a Certified LEAP therapist in August 2010, and passed the certification exam for diabetes educators in November of 2010.
Services Diabetes Counseling
Weight Management
LEAP therapy
General wellness/Nutrition
Additional Services Certified Diabetes Educator, Certified LEAP Therapist