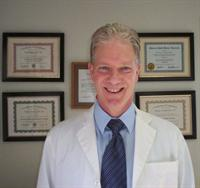 About Dr. Terence A. Trinka, OD CN BCNP
Are you hypothyroid? On thyroid medication and still not feeling right?

Do you know that most people in America have stress related health problems?

Stress comes in many forms and it is the job of your adrenal glands to combat the many faces of stress in your body.

Many people in America have fatigued adrenal glands and thyroid glands that are under active or hypothyroid.

Dr. Trinka specializes in helping people overcome challenges to their health due to thyroid and adrenal dysfunctions,in his clinic, The Rocky Mountain Center For Thyroid And Adrenal Health, in Conifer, Colorado.

While thyroid problems are very common in the USA, not many people know about adrenal problems. If they did, they would realize that adrenal issues are in the background or foreground of almost all common disease states.

Although this sounds very specialized, Dr. Trinka inevitably end up helping people on the issues of daily life: food sensitivities, gut infections, environmental toxicity removal, sleep, mental emotional stressors, blood sugar control, weight management, etc.

This practice is unique because of the incredible amount of natural substances available to help people reclaim their health and the fact that Dr. Trinka uses common and sophisticated lab tests, muscle testing and symptom surveys to determine the cause of why your health is not what you want it to be.

Many natural health offices are somewhat" married" to a line of supplements that they use exclusively. Dr. Trinka has yet to see one company satisfy all of his client's requirements, therefore he uses about 10 of the most well respected, potent, safe supplement companies in the market today. This gives his clients the best opportunity for making rapid positive changes in their health.

In the end, Dr.Trinka's promise to any client is that we will work tirelessly to figure out what are the mechanisms at work to produce your health symptoms, and then will test many substances to find out which are best tolerated by you and which will do the best job of guiding your body back to health.

So, if you are looking for answers, as to why you do not feel your best, addressing an underactive thyroid, or an over or underactive adrenal gland may be the
the most efficient way for you to achieve the health you so deserve.

Please call our office at 303-838-9355 or stop by and visit our office in Conifer just 20 minutes up 285 from Wadsworth and Hampden at 26689 Pleasant Park Rd.
suite 150. Conifer, Colorado 80433. Dr Trinka routinely gives 15 minute free consultations to determine if we can help with your health goals.

In addition, you can check out Dr. Trinka's website for instructions on how to become a new client, how to become eligible to order the finest supplements in the world, or to just educate yourself on thyroid problems and how they relate to your current symptoms.
Primary Specialty
Naturopathic Doctor
Practice Rocky Mountain Center For Thyroid & Adrenal Health
Gender Male
Years In Practice 17
Education Graduated from University of Illinois BS in biology

Graduate from Illinois College of Optometry Doctor of Optometry

Graduated from National Institute of Nutritional Education
with a degree as Certified Nutritionist

Recieves Board Certification as Naturopathic Physician
from the American Naturopathic Medical Board
Staff miki
Kerri
Services health consultations, lab test interpretation, kinesiology,
weight loss, detoxification,
Consumer Feedback
View All

6

Reviews
Add a Review
Recent Reviews
I have experienced outstanding care at this office. I can't speak highly enough. I have been seeing Dr. Trinka for years to address my underactive thyroid symptoms such as being cold all the time and
by
zenurez
xxx.xxx.125.101
April 10, 2016
Dr. Trinka is a very intelligent man who helped me overcome some life threatening issues before he came to specialize in adrenals & thyroid. He was recommended to me by a friend & it may have saved my
Recent Polls
Did you feel like this provider's office was understaffed?
Not at all, they had plenty of staff members to help me whenever I needed assistance
by
Anonymous
xxx.xxx.179.1
April 08, 2013
Did this provider leave you unattended for an extended period of time?
No, I was always attended to
Add a Review