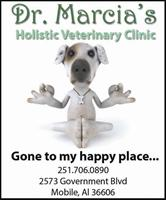 About Marcia Martin, DVM
Holistic veterinary clinic providing acupuncture, chiropractic and homeopathy to the pets of the Gulf Coast. We also provide state of the art diagnostics and 24 hour patient care.

East meets West in the Heart of Mobile!
Primary Specialty
Holistic Care
Practice The Holistic Veterinary Center
Gender Female
Services The Holistic Veterinary Center offers Holistic Care in Mobile, AL. Holistic Care is total patient care: physical, emotional and spiritual. Holistic care includes acupuncture, herbal medicine and shiatsu.

Please call Marcia Martin, DVM at (251) 706-0890 to schedule an appointment in Mobile, AL or to get more information.
Consumer Feedback
View all

14

Reviews
Add a Review
Recent Reviews
by
Cynde Kimbrough
XXX.XXX.202.117
July 17, 2014
by
Anonymous
XXX.XXX.209.147
May 27, 2014
by
Anonymous
XXX.XXX.82.112
October 30, 2013