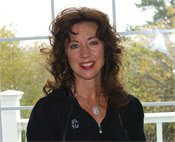 About Valerie Nelson, ND, CNHP
Valerie Nelson practices as a fibromyalgia doctor in Pittsburgh, Pennsylvania (PA) at Abundant Life Wellness. Dr. Nelson focuses on treating patients from a whole-body perspective, paying attention to every aspect of their health and wellness. She addresses patients' conditions by bringing the body to a balanced state, allowing it to heal itself naturally. As an experienced fibromyalgia doctor in Pittsburgh, Pennsylvania (PA), Dr. Valerie Nelson is adept at treating patients suffering from chronic pain and fatigue. She works to determine the underlying cause of a patient's symptoms so that she can accurately correct the problem, resulting in long-term health and harmony within the body.
Primary Specialty
Fibromyalgia Doctor
Practice Abundant Life Wellness
Gender Female
Years In Practice 9
Certification Naturopathic Doctor

Board Certified In Integrative Medicine

Master Herbalist

Certified Natural Health Professional

Certified Nutritional Counselor
Services
As a leading fibromyalgia doctor in Pittsburgh, Pennsylvania (PA), Valerie Nelson offers a variety of different treatment options at Abundant Life Wellness. Her detoxifying ionic footbaths are designed to extract toxins and parasites from the body, resulting in improved sleeping patterns and overall health. With Dr. Nelson's guidance, patients can correct imbalances within the body by improving nutritional and sleep patterns, managing stress and making other lifestyle modifications. She uses a two-step process to first cleanse the body and then rebuild the lacking vitamins and minerals. Dr. Nelson also uses homeopathic medicine to treat fibromyalgia in Pittsburgh, Pennsylvania (PA). Call Dr. Valerie Nelson at Abundant Life Wellness in Pittsburgh, Pennsylvania (PA) to receive holistic treatment for a variety of issues.
Consumer Feedback
View All

6

Reviews
Add a Review
Recent Reviews
I became ill back in Dec. after a very simple, (so I was told) surgery. Knee scope…. I was told a week to 10 days recovery. Around 2 weeks later my up... Read more
by
M. Lacey
XXX.XXX.193.189
June 08, 2014
My 10 year old daughter has a history of anxiety that started when she was very young. What started as "separation anxiety" as a toddler became more seve... Read more
by
Sherry
XXX.XXX.193.189
May 04, 2014
Add a Review