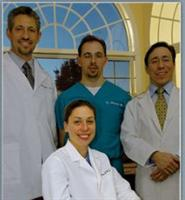 About Gentle Dentistry
Gentle Dentistry, one of the most advanced dental practices in the state of New Jersey, is located above the Haworth Apothecary on Terrace Street.

Dr. Spector and Migdal's advanced approach to dental care has been featured on ABC, NBC, CBS, NJ12, The New York Times, and many health programs, news networks, and dental publications. Gentle Dentistry has become the widely known for advanced laser dentistry, single visit dentistry, and minimally invasive dental care.

Continuing our proud 45 year office tradition, the team of Gentle Dentistry will collectively deliver excellence in dental care while treating our patients and each other with respect, compassion, and integrity.

Primary Specialty
Dental Care
Practice Gentle Dentistry
Years In Practice 49
Education SEE WEBSITE
Training SEE WEBSITE
Staff SEE WEBSITE
Affiliations SEE WEBSITE
Certification SEE WEBSITE
Services PRODUCTS AND SERVICES

Implants / Invisalign / Veneers / Teeth Whitening Options
Full Mouth Restorations / Reconstructive Dentistry
Tooth Colored Restorations / Metal Free/Mercury Free Dentistry Periodontal Gum Therapy / General & Preventative Dental Care

LATEST TECHNOLOGY

Cerec 3D / Waterlase MD / Diagnodent Laser
Odyssey Laser / Digital X-Rays / Intra-oral Camera
ZOOM Whitening / No Drill & No Needle
Patient Entertainment Centers
Exceptional Sterilization Techniques







Consumer Feedback
View All

2

Reviews
Add a Review
Recent Reviews
This provider has helpful information available online, which is really convenient. They have a good website and online presence. I never have to worry about them overbooking appointments. They defini
Their primary concern is my safety and comfort, and they always take the time to address every concern of mine immediately. They were so kind and attentive to me. I didn't have to worry about them ar
Add a Review