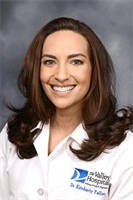 About Kimberly L Fallon, MD
Dr. Kimberly Fallon practices as an OBGYN in Park Ridge, NJ and has been providing compassionate, comprehensive care to women in New Jersey for over a decade. She is a graduate of Cornell University and the Mount Sinai School of Medicine in New York. Dr. Fallon is Board Certified in general Obstetrics and Gynecology. She offers a wide range of services such as minimally invasive laparoscopic surgery, endometrial ablation, colposcopy, adolescent health counseling and menopausal management. Dr. Kimberly Fallon has also won multiple Patient Choice Awards for her outstanding and professional work as an OBGYN in Park Ridge, NJ.

Dr. Fallon has recently moved to a brand new state of the art office in Park Ridge, NJ.
Primary Specialty
OBGYN
Practice Park Ridge Medical
Gender Female
Years In Practice 16
Education Cornell University
The Mount Sinai School of Medicine
Training The New York Medical College
Affiliations The Valley Hospital in Ridgewood, NJ and Holy Name Medical Center in Teaneck, NJ.
Certification Board Certified in Obstetrics & Gynecology
Fellow of the American College of Ob/Gyn
Services Dr. Kimberly Fallon is a leading OBGYN in Park Ridge, NJ. Dr. Fallon specializes in adolescent health, menopausal management, endometrial ablation, menstrual problems, and advanced laparoscopy. For the best OBGYN in Park Ridge, New Jersey, contact Dr. Kimberly Fallon.


Consumer Feedback
View All

162

Reviews
Add a Review
Recent Reviews
Dr. Fallon, Rachel and the entire staff of this office are beyond excellent. I could not recommend a more caring, compassionate group to work with during pregnancy or from an overall perspective. So
by
NJNewMom
xxx.xxx.197.107
September 24, 2015
Dr. Fallon has been my OBGYN for almost ten years and she is wonderful and caring. I can't say enough good things about her and her staff. They are all wonderful.
Recent Polls
Did the staff keep the temperature in the waiting room pleasant?
Yes
by
Anonymous
xxx.xxx.75.210
June 01, 2015
Were the staff members able to answer your questions?
Definitely
by
Anonymous
xxx.xxx.130.11
November 06, 2014
Add a Review