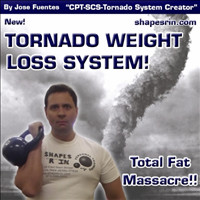 shapesrin
Hometown:
Denville, NJ United States
Occupation:
Full time personal trainer
About shapesrin
I started my journey as an instructor In Mexico city at the young age of 10! Teaching kids Northern Style kung-Fu in which I already had a black belt by then!. "I discovered my passion for teaching fitness at a very young age". Until this date I have never forgotten the faces of those boys and girls when I taught them something new!
My personal training career took off at the age of 16 at a local gym in Veracruz, Mexico. "I remember how excited I was when I received my first paycheck. During the years that I worked at several small health clubs, I instructed their members on how to use the equipment. As my career progressed, I eventually moved on to the larger health clubs/gyms. As an incentive, I conducted various contests for their members. One of the contests consisted of monitoring and measuring the members' progress during specific exercise routines (bench press, squats with barbells, push- ups, etc.). The ultimate prize was a free monthly membership. This prize was quite impressive since most people in Mexico could not afford a personal trainer. As a personal trainer, I found it most gratifying to see my clients do so well".

Among my numerous abilities and expertise is my ability to target muscle groups. I use all the
modern techniques for maximum muscle fiber recruitment. By listening carefully to my clients, I apply the techniques that best matches their needs and achieves their goals. I teach isokinetics, strength training, isotonics, hypertrophy stimulation, isometrics and plyometric techniques. Also do body fat analysis, stretching and manipulating agonistic and antagonistic muscles.Among my many credentials, I recently earned my Master Certification from The International Federation of Personal Trainers Association. I continue to expand my knowledge and enhance my skills in advance sports nutrition weight management and alternative herbal medicine.
shapesrin's Interests
Fitness, nutrition sports performance training