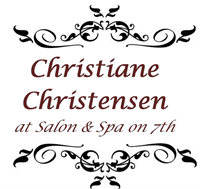 About Christiane christensen, Hair Stylist
I have been in the salon industry since 2004 and have always had the desire to create beautiful hair. I am very passionate for the art of hair styling, I love to do modern-classic looks as well as edgy styles. My focus as a hair designer is to create a style that has great impact while being simple to re-create at home.
I enjoy meeting new people and making sure that they get the desired look they are going for. My highest priority is making sure you are happy with your appearance when you leave the salon.
Primary Specialty
Salon
Practice Christiane's Hair Design
Gender Female
Services I offer a variety of services including...
HairColor, highlights, Haircuts, Perms, Eyebrow and lip waxing,
eyelash & eyebrow tinting, Manicures, pedicures,
Shellac gel nails and glitter toes