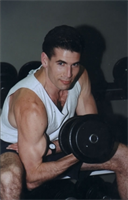 About Bob Alessi, Owner
One-on-One personal training in a private personal training studio. Customized workouts, along with nutritional guidance, geared toward reaching your fitness goals. All by appointment, free off street parking. Gift certificates and in-home training also available.
Primary Specialty
Personal Trainer
Practice Personal Training
Gender Male
Years In Practice 21
Education BS Canisius College
Certification International Fitness Professionals Association, Fitour
Payment Options
Cash, Check, Visa, Master Card
Services Bob Alessi, Owner is a Personal Trainer in Amherst, NY. Personal Trainer provides fitness counseling, training, fitness trainer, exercise, workouts, personal trainer.

Please call Bob Alessi, Owner at (716) 833-8664 to schedule an appointment in Amherst, NY or to get more information.
Additional Services weight loss, muscle toning
Consumer Feedback
View All Reviews
Add a Review
Recent Reviews
"Super" may just be the best word to describe Bob Alessi as a personal trainer. Super for the expert, deep, precise, and reliable knowledge he has of the body whole – the muscles, but also the mind, n
by
Christian
xxx.xxx.62.158
March 29, 2016