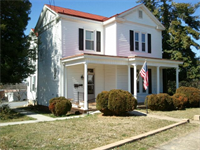 About Jim McFarland, Owner
Muscle Therapy Inc was established in 1992. We have been helping people with pain, stress relief, and athletic issues for over 30 years.
Primary Specialty
Massage Therapist
Practice Massage Therapy Inc
Gender Male
Services Jim McFarland, Owner is a Massage Therapist in Lynchburg, VA. A Massage Therapist uses massage to treat patients. A massage therapist needs a license to practice, which can be obtained after a training program. Massage therapists can work for a spa, clinic, or in private practice.

Please call Jim McFarland, Owner at (434) 847-6290 to schedule an appointment in Lynchburg, VA or to get more information.
Additional Services pregnancy massage,athletic massage