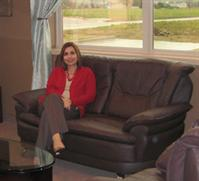 About Heidi Mir, MD
Dr. Heidi Mir is a highly reputable psychiatrist in Ft. Lauderdale, Florida (FL) who treats children and adults for anxiety, depression, and ADD/ADHD. As an experienced and highly reputable psychiatrist who genuinely cares about her patients, Dr. Heidi Mir provides her patients with a warm, supportive atmosphere. Dr. Heidi Mir is a psychiatrist who honors your health goals: If medication is needed, she'll prescribe it, if your goal is to be medication-free, she'll work with you toward that goal at a mutually agreed pace.

In addition to anxiety, depression, ADD/ADHD, as a psychiatrist in Ft. Lauderdale, FL, Dr. Heidi Mir also treats conditions such as OCD, learning disabilities, mood disorders, eating disorders, as well as many other conditions.

If you think you or a loved one might benefit by meeting with Dr. Heidi Mir, a psychiatrist in Ft. Lauderdale, FL, call today for a consultation: 954-300-2457.
Primary Specialty
Psychiatrist
Practice Fort Lauderdale Psychiatrist
Gender Female
Education Cornell University, NY: Psychiatric Residency
University of Vienna, Austria: PhD
Services Approximately 40 million people suffer from anxiety.
Approximately 20% of Americans suffer from clinical depression.
Approximately 5% of the US population is affected by ADD/ADHD.

What those statistics have in common is that anyone suffering from any of those conditions can benefit from seeing a psychiatrist. A psychiatrist can only help you if she knows you are in need of help.

If you think you have symptoms associated with these conditions call Dr. Heidi Mir, a psychiatrist in Ft. Lauderdale, FL: 954-300-2457.

If you are suffering, the sooner you see a reputable psychiatrist the sooner you might be able to improve the quality of your life.
Consumer Feedback
View All

5

Reviews
Add a Review
Recent Reviews
They made sure every single question I had was answered, and are always available if I think of any more questions I want answered. Their staff is the most friendly, welcoming staff I've ever dealt w
by
Jeremy Cole
xxx.xxx.72.29
September 14, 2012
Recent Polls
Did a staff member acknowledge or greet you when you entered?
Briefly, but they didn't make an effort to help me
by
Anonymous
xxx.xxx.66.42
November 27, 2012
Was this provider's office clean?
Yes everything was neat and sterile
by
Anonymous
xxx.xxx.72.144
October 26, 2012
Add a Review