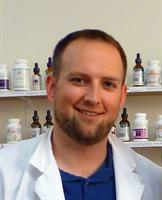 About Gabe Prewitt, L.Ac. M.S., Dipl. OM.
Gabe Prewitt is a nationally licensed Acupuncturist and Herbalist. He holds a Masters degree in Traditional Chinese Medicine from Pacific College of Oriental Medicine and a B.S. in Psychology from the University of Oregon. Gabe has also completed post-graduate training in China at the Beijing Traditional Chinese Medicine Hospital.
Gabe's focus is on the treatment of musculoskeletal disorders, sports medicine, pain management and rehabilitation. His diverse and comprehensive training allows him to create focused treatments that are individually tailored to each patient. Gabe uses Acupuncture, Acupressure, Tui Na (Chinese Medical Massage), and a variety of other techniques to promote patient health. His experience with injury, inflammation, and musculoskeletal disorders enables him to maximize long term function while decreasing pain and recovery time. As a certified herbalist, Gabe also uses food, herbs and supplements to optimize physical recovery and promote long term health for his patients.

Primary Specialty
Acupuncturist
Practice Healthy Living Chiropractic and Wellness Center
Gender Male
Services
Traditional Acupuncture, Orthopedic Acupuncture, Herbal Medicine, Cupping, Gua Sha, Tui Na (Chinese Medical Massage), Rehabilitation, Auto accident recovery, Nutrition, Allergies, Headaches, Pain Management.
Additional Services Herbalist