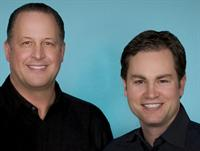 About Damon Orthodontics, PLLC
Damon Orthodontics has been serving the community since 1968, offers the services of an Orthodontist in Spokane, Washington (WA). The world class Damon System created and perfected in Spokane is utilized by Dr. Clay Damon and Dr. Paul Damon. The Damon System eliminates the need for extraction of permanent teeth, palatal expanders, and/or headgear in most cases. Damon braces, available at Damon Orthodontics in Spokane, WA, are designed to be tiny easy to wear, nearly invisible and deliver exceptional results in less time than conventional braces or Invisalign. Dr. Clay Damon and Dr. Paul Damon along with their team of skilled professionals are dedicated to making every patient's orthodontic experience the best it can possibly be.



If seeking an orthodontist in the Greater Spokane, WA area who provides superior orthodontic care using state-of-the-art technology systems, please call Damon Orthodontics and make an appointment today.



THINK BRACES, THINK DAMON
Primary Specialty
Orthodontist
Practice Damon Orthodontics, PLLC
Education University of Washington

University of Iowa

University of Rochester, Eastman Dental Center

Case Western Reserve University
Staff Dr. Clay Damon

Dr. Paul Damon
Payment Options
Cash, check, credit card, Care Credit, most insurances, interest-free payment plans
Services Those in need of an orthodontist in Spokane, Washington (WA), will find that the comfortable and caring atmosphere at Damon Orthodontics has everything they could hope for. Dr. Clay Damon and Dr. Paul Damon are the premier leading experts of the Damon System. The Damon System is used to treat crowding, excessive spacing, crossbite, underbite, overbite, and much more. In addition to Damon Braces they offer digital diagnostic imaging, bonded and removable orthodontic appliances, invisible aligners, nightguards, snoreguards, and orthotic splints.



For an orthodontist in Spokane, WA who offers nearly invisible braces, please call Damon Orthodontics to make an appointment or visit their website for more information.
Consumer Feedback
View All

2

Reviews
Add a Review
Recent Reviews
They made sure every single question I had was answered, and are always available if I think of any more questions I want answered. Their staff is the most friendly, welcoming staff I've ever dealt w
Recent Polls
Did this provider answer all of your questions?
Every question I had was answered thoroughly
by
Anonymous
xxx.xxx.236.132
May 23, 2012
Add a Review