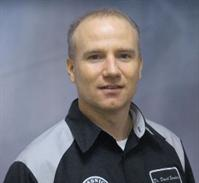 Nearby Specialists - Call Now
About David Sanders, D.C.
Independence chiropractor, Dr. David Sanders provides classic hands-on adjustments. Classic Chiropractic is a referral-based chiropractic practice. We use this website to explain to Independence-area residents what a chiropractor can do and what a chiropractor doesn't do. Are you looking for a natural solution to headaches or back pain? Or perhaps a way to get well and stay well that avoids drugs or surgery? You've found the right place! Because finding a qualified chiropractor in the Independence-area begins and ends right here! Take the first step towards relief by calling our office today.


Primary Specialty
Chiropractor
Practice Classic Chiropractic
Gender Male
Years In Practice 18
Services David Sanders, D.C. practices at 16807 E 23rd St, Independence, MO 64055. Chiropractors diagnose and treat common spinal misalignments that can occur from lifestyle or injuries causing pain, discomfort and degenerative conditions.

David Sanders, D.C. may be able to treat; back pain, sciatica, neck pain, shoulder pain, headaches, sports injuries, and auto accident injuries.

To learn more, or to make an appointment with David Sanders, D.C. in Independence, MO, please call (816) 833-5533 for more information.
Consumer Feedback
View All

11

Reviews
Add a Review
Recent Reviews
Dr Sanders is amazing! He is very understanding and patient. He listens to all of his patients and answers all of your questions. Dr Sanders takes his ti... Read more
Absolutely love Dr. Sanders! He is very compassionate and understanding! He truly cares about his patients and does a great job in accommodating needs.... Read more
Recent Polls
Did this provider seem irritated to be working with you?
Not at all, they were glad to help me with anything I needed
by
Sue Taylor
XXX.XXX.108.119
January 09, 2014