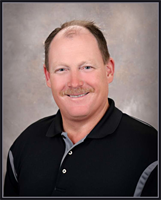 More Nearby
About Ben Dorenkamp, Dr. Dorenkamp
Dr. Dorenkamp is conservative with his treatment approach and believes strongly the best outcome in health care occurs when "the doctor and the patient are a team". He believes strongly in multi-disciplinary care and works diligently with many medical providers, including massage therapists, physical therapists, acupuncture providers, and injury and pain specialists

Dr. Dorenkamp believes you are a vital team member in your health decisions. He will explain various treatment plans and options, including supplements and radiology studies with you, while taking into account economics and your health status.

You will always have input as to the course of action that will be decided. You will never feel high pressure to make any decisions concerning your health.

SPECIALIZES IN WORKERS' COMP

As an Accredited Level I chiropractor care giver since July, 1 1991, Dr. Dorenkamp is well trained and respected by those that manage the Colorado Workers' Compensation claims.

Dr. Dorenkamp was raised on a farm and ranch in southeastern Colorado as part of a family that was involved in rodeos and horseracing. The rugged lifestyle and playing sports resulted in injuries that were his first introduction to chiropractic.

After high school and various jobs, his interest in chiropractic care continued to increase, and he chose to pursue a career that would enable him to help others lead better quality and healthier lives.

He attended Mesa College (now Colorado Mesa University) in Grand Junction, Colorado to study pre-med. In 1986 he was accepted by Texas Chiropractic College and he and his wife, Amanda, moved to Pasadena, Texas for him to complete his education to become a chiropractor. Dr. Dorenkamp graduated with his Doctorate of Chiropractic, D.C., in April 1989.

Dr. Dorenkamp, his wife Amanda, who is also the office manager, and Sally the office assistant, have been involved in Dorenkamp Chiropractic Clinic LLC since the very first day the office was opened in 1989. They share a common philosophy of treating their patients with care and handling all clinic matters with integrity.

Dorenkamp Chiropractic Clinic, as a small private clinic, takes pride in treating each patient as the unique and important individual they are.
Primary Specialty
Chiropractor
Practice DORENKAMP CHIROPRACTIC CLINIC
Years In Practice 16
Services Treatments

Dr. Dorenkamp will meet with you, listen to you, analyze your situation, and determine what would be the best method of adjustment to use. In addition to being trained extensively in the traditional "hands-on" chiropractic arts, Dr. Dorenkamp uses various other low force techniques when treating infants, pregnant women, the elderly, and those with a medical condition in which manual manipulation may be a contraindication.

Radiology

If Dr. Dorenkamp determines x-rays or other radiological tests must be completed to assist in determining your treatment he will refer you to the proper facility. Many times your primary physician or specialist refers you to Dr. Dorenkamp and will already have this information available.

Dr. Dorenkamp has a close working relationship with numerous primary physicians, specialists and facilities in Grand Junction, Colorado.

Preventative and After Treatment Information

Dr. Dorenkamp believes strongly in multi-disciplinary care and works diligently with many medical providers, including massage therapists, physical therapists, acupuncture providers, and injury and pain specialists. to ensure his patients get the best care possible. Dr. Dorenkamp also has stretching and strengthening information that could aid you in your healing and well-being.

Supplements

Nutrition is a vital key to good health. Dr. Dorenkamp has a wide variety of supplements available. He will help you assess your situation, including your health needs and costs, and make recommendations only if you are interested. Dorenkamp Chiropractic Clinic carries only high quality, including but not limited to, Metagenics and Nutri-west supplements.



Additional Services Workers Comp. Chiropractor
Consumer Feedback
View all

38

Reviews
Add a Review
Recent Reviews
Did this provider exaggerate his/her or abilities?
No, I got what was promised
Did the waiting room smell clean?
Yes
Did your provider offer a holistic approach to your experience with them?
It is heartwarming to know that this provider has thought about the value of a holistic approach.
Did you feel like this provider's office was sufficiently staffed?
Yes
Did you feel that your visit with the provider was time well spent?
Absolutely yes
by
Anonymous
XXX.XXX.251.131
August 18, 2014
Did this chiropractor answer all of your questions?
Yes
Is this business handicap-accessible?
Yes
Did the staff keep the temperature in the waiting room pleasant?
Yes
Has this chiropractor ever misdiagnosed you?
No, they are always spot-on
Was the wait time for your appointment reasonable once you got to the office?
Yes
by
Chrystal
XXX.XXX.174.26
July 14, 2014
Does this provider maintain a professional appearance?
Absolutely
Did this chiropractor discuss your X-Rays with you?
Yes! I was given all the information I needed without having to ask
Was this provider compassionate to you and your situation?
Yes
Does this provider have helpful information available online?
Definitely
Was this chiropractor friendly?
Extremely Friendly
by
Anonymous
XXX.XXX.20.216
May 15, 2014