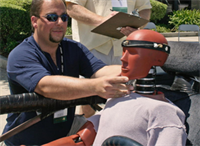 Nearby Specialists - Call Now sponsored
About Peter Ray, D.C., C.Ac
At Partners In Health, we first help to relieve pain through chiropractic, trigger point dry-needling and other forms of therapy such as acupuncture and massage.

The next step is to teach patients how to maintain and improve their general health in order to prevent further pain and relapses. We do this by integrating stretching, yoga and core strengthening. Pilates exercises are a great way to develop spinal muscular strength.

We treat chronic and acute cases. From patients that have been in a car crash or pregnant women, we have over 22 years of experience in dealing with a variety of conditions.
Primary Specialty
Chiropractor
Practice Partners In Health LLC
Gender Male
Years In Practice 25
Education Doctorate of Chiropractic
Staff Holly, Office Manager
Certification Trigger Point Dry Needling
Payment Options
Cash, Credit Card or Check
Services
We will suggest a sensible treatment plan to meet your goals quickly. Chiropractic, acupuncture, dry-needling, massage and physical rehabilitation are our methods of treatment. Get started today!
Additional Services Acupunture, Dry-Needling, Physical Therapy
Consumer Feedback
View All

3

Reviews
Add a Review
Recent Polls
Does this provider treat their staff well?
Yes, they treat their staff with respect
Did this provider listen to your input and concerns?
Absolutely! This provider always listens carefully to what I have to say!
Add a Review