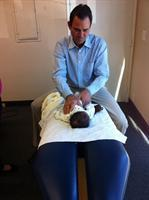 Nearby Specialists - Call Now sponsored
About Gregory Valentine, D.C.
Valentine Chiropractic
"Turns on the power!"

We are located in Fullerton, CA , and have been helping people obtain a healthy and better quality of life for over 23 years.

Dr. Valentine is dedicated to the holistic natural chiropractic approach which will nourish your joints to become more healthy and energize your body.

Many people have the myth that chiropractic care is only for those who suffer from back pain. But healing back pain is only one of the many natural healing powers of chiropractic care.

For instance, did you know that slight misalignments in your bodies joints caused by everyday life can result in dysfunctions in your body that interfere with your nervous system and in turn diminish your health?

Chiropractic care is a natural way to keep your body aligned so that the nervous system functions properly helping you to a healthier life. While chiropractic care is used for healing back pain, it is also widely used in naturally healing carpal tunnel syndrome, whiplash & misalignments caused by car accidents, joints arthritis, sport injuries, neck misalignments, headaches, and loss of movement in the spine.



Valentine Chiropractic provides a unique chiropractic experience to heal all of the above conditions.

We are conveniently located in Fullerton, CA at 162 N Raymond Ave. Valentine Chiropractic has been serving the greater Orange County area for over 20 years.

Call today to set up an appointment!!!!



(714) 738-0115


Primary Specialty
Chiropractor
Practice Valentine Chiropractic
Gender Male
Years In Practice 37
Services Gregory Valentine, D.C. practices at 172 N Raymond Ave, Fullerton, CA 92831. Chiropractors diagnose and treat common spinal misalignments that can occur from lifestyle or injuries causing pain, discomfort and degenerative conditions.

Gregory Valentine, D.C. may be able to treat; back pain, sciatica, neck pain, shoulder pain, headaches, sports injuries, and auto accident injuries.

To learn more, or to make an appointment with Gregory Valentine, D.C. in Fullerton, CA, please call (714) 738-0115 for more information.
Additional Services Spinal Decomp, Laser,
Consumer Feedback
View All

3

Reviews
Add a Review
Recent Polls
Did you feel like your pain was lessened after your chiropractic treatment?
Somewhat, but not too much
by
Anonymous
xxx.xxx.175.108
August 28, 2012
Did this provider answer all of your questions?
Yes
by
Anonymous
xxx.xxx.108.222
March 19, 2012
Add a Review