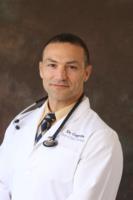 Nearby Specialists - Call Now sponsored
About Dr. John Coppola
Our clinic specializes in neuropathy, disc related neck and low back pain. We offer safer alternatives to dangerous medications and surgery. Depending on your diagnosis, therapeutic treatments may include: non-surgical spinal decompression, low level laser, joint mobilization, nutritional support and massage therapy.
Primary Specialty
Chiropractor
Practice Precision Sport & Spine/San Antonio Neuropathy Cen
Gender Male
Years In Practice 18
Services Dr. John Coppola practices at 13150 N.W. Military Hwy, SAN ANTONIO, TX 78231. Chiropractors diagnose and treat common spinal misalignments that can occur from lifestyle or injuries causing pain, discomfort and degenerative conditions.

Dr. John Coppola may be able to treat; back pain, sciatica, neck pain, shoulder pain, headaches, sports injuries, and auto accident injuries.

To learn more, or to make an appointment with Dr. John Coppola in SAN ANTONIO, TX, please call (210) 492-0111 for more information.
Consumer Feedback
View All

4

Reviews
Add a Review
Recent Reviews
They keep the restrooms well-stocked here, and not just with the basics. There is mouthwash, lotion and other amenities. You can tell they want their clients to be as comfortable as possible. They are
Recent Polls
Are you going to visit this provider again?
Without a doubt!
by
Jack Shull
xxx.xxx.227.66
October 01, 2012
Did you feel like your pain was lessened after your chiropractic treatment?
Yes
by
Anonymous
xxx.xxx.246.134
August 12, 2012
Add a Review