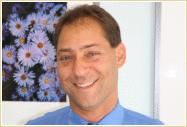 Nearby Specialists - Call Now sponsored
About Michael Berlin, D.C.
Dr. Berlin is a highly skilled and talented healer and communicator who has undergone extensive training to perfect his abilities. With over 17 years of experience as a chiropractor in Plainview, New York (NY), Dr. Berlin has been noted as a gentle and intuitive alternative health practitioner and mind-body healer. He is also a renowned speaker and educator, and has helped thousands of patients improve their wellness as a fully-trained group facilitator. He specializes in general chiropractic and network care in Plainview, New York (NY), working with doctors Morton and Rothstein to help individuals and families live extraordinary body-mind wellness.
Primary Specialty
Chiropractor
Practice The Family Wellness Center
Years In Practice 16
Services As an expert in NSA Care in Plainview, New York (NY), chiropractor Dr. Michael Berlin uses an approach to chiropractic that achieves far better results than traditional methods. NSA Care utilizes gentle pressure points on spinal cord attachment spots that allow the body to release stress, tension, distortions and traumas. Patients of Dr. Berlin who take advantage of his NSA Care in Plainview, New York (NY) will benefit from four times greater physical, chemical and emotional wellness than any other lifestyle change, including diet, exercise and smoking cessation. Dr. Berlin calls this Life Care, because as the body continues to heal, repair and straighten, the patient is also able to completely change their physical and emotional lifestyle habits.

With his network care in Plainview, New York (NY), experienced chiropractor Dr. Michael Berlin aims to literally resolve all stress, tension and trauma from the body and mind using all-natural techniques. Dr. Berlin's gentle methods help people find peace and passion in their lives while also powerfully helping them to completely heal from all kinds of chronic disorders.
Consumer Feedback
View All

13

Reviews
Add a Review
Recent Reviews
I couldn't believe how knowledgeable and well-informed the staff was. They were able to answer all my questions, except the ones they needed to have their boss's input on. It was great to be able to
All of my questions were answered during my appointment, which really put my mind at ease. It's always nice to have comfortable chairs to sit in while you are waiting to visit the chiropractor. I app
Recent Polls
Did you feel that your waiting time was acceptable?
Absolutely
by
Anonymous
xxx.xxx.75.77
October 31, 2014
Was this provider's office easy to locate?
Absolutely! It couldn't have been easier!
Add a Review