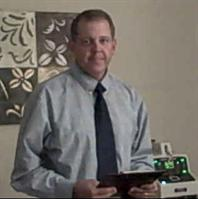 Nearby Specialists - Call Now sponsored
About Michael Hermann, D.C.
Dr. Michael Hermann has a treatment philosophy rarely seen these days in the Chiropractic Industry, that he wants to help you get pain free as quickly as possible,thus eliminating prolonged treatments
Primary Specialty
Chiropractor
Practice Hermann Chiropractic
Gender Male
Years In Practice 15
Services Michael Hermann, D.C. practices at 555 N McLean Blvd Ste 201, Wichita, KS 67203. Chiropractors diagnose and treat common spinal misalignments that can occur from lifestyle or injuries causing pain, discomfort and degenerative conditions.

Michael Hermann, D.C. may be able to treat; back pain, sciatica, neck pain, shoulder pain, headaches, sports injuries, and auto accident injuries.

To learn more, or to make an appointment with Michael Hermann, D.C. in Wichita, KS, please call (316) 681-2207 for more information.
Consumer Feedback
View All

21

Reviews
Add a Review
Recent Reviews
Dr Herman is a great Chiropractor. He has been in practice for over 20 years. Every time he adjusts me I leave feeling much better. I would recommend his care for anyone. If you have a difficult probl
by
Robert Dixon
xxx.xxx.8.234
January 01, 2016
Always a wonderful experience! Even the option to walk in does not result in a lengthy wait. Dr. Mike wants to know how you really are and takes the time to discuss health matters with you! Beautifu
Recent Polls
Were you satisfied with your appointment with your provider?
Yes
by
Anonymous
xxx.xxx.46.18
August 04, 2014
Were you able to get answers to simple questions from this provider without scheduling an appointment?
Yes
by
JulieZ
xxx.xxx.228.240
April 14, 2014
Add a Review