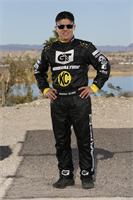 About Macrae Glass, D.C.
Pain Relief! Naturally.....Using a variety of techniques including chiropractic, acupuncture, ultrasound, muscle and joint therapies. Complete host of soft tissue modalities including ultrasound, electrical stimulation, low level laser, and disc decompression. Call today!
Primary Specialty
Chiropractor
Practice Glass Chiropractic
Years In Practice 15
Services Macrae Glass, D.C. practices at 2535 Hualapai Mountain Road Suite C, Kingman, AZ 86401. Chiropractors diagnose and treat common spinal misalignments that can occur from lifestyle or injuries causing pain, discomfort and degenerative conditions.

Macrae Glass, D.C. may be able to treat; back pain, sciatica, neck pain, shoulder pain, headaches, sports injuries, and auto accident injuries.

To learn more, or to make an appointment with Macrae Glass, D.C. in Kingman, AZ, please call (928) 692-8300 for more information.
Additional Services Acupuncture
Consumer Feedback
View All

7

Reviews
Add a Review
Recent Reviews
Wonderful, friendly, helpful staff in a super clean environment. Doctor Glass utilizes his professional talents in a modest- gentle manner, important when your a senior citizen. He is a very skilled a
by
s.hutch
xxx.xxx.237.26
August 20, 2013
All of my questions were answered during my appointment, and the doctor seemed very knowledgeable. They were happy to answer each and every question I had in-depth. It's always nice to have comfortabl
Recent Polls
Were the waiting room chairs comfortable at this chiropractor's office?
They were average
by
Anonymous
xxx.xxx.46.146
March 03, 2014
Did this provider have reasonable prices?
Absolutely!
by
Anonymous
xxx.xxx.45.247
February 13, 2014
Add a Review