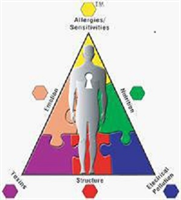 About Clyde Porter, D.C
porterwellness has always worked to deliver wholistic care. In our history we have accumulated skills to deliver on every level of your needs to establish your best health. We desire that you be an independent fully functioning human and that you successfully manage your health such that disease becomes a moot point in your life, never getting beyond a little cold or indigestion.
Wholistic health care is a misunderstood phenomenon. Many sell it but few can provide it. In brief it should include all that you are, body, mind spirit. It then must incorporate consideration of your structure, chemistry, mental emotional states, functions of all organs, nourishment,removal of waste, detoxification, environmental disagreements, etc.
Primary Specialty
Chiropractor
Practice PORTER CHIRPORACTIC RESEARCH CENTER
Gender Male
Years In Practice 30
Services Clyde Porter, D.C practices at 1005 TERMINAL WY STE 270, RENO, NV 89502. Chiropractors diagnose and treat common spinal misalignments that can occur from lifestyle or injuries causing pain, discomfort and degenerative conditions.

Clyde Porter, D.C may be able to treat; back pain, sciatica, neck pain, shoulder pain, headaches, sports injuries, and auto accident injuries.

To learn more, or to make an appointment with Clyde Porter, D.C in RENO, NV, please call (775) 331-0177 for more information.
Consumer Feedback
View All

11

Reviews
Add a Review
Recent Reviews
I have seen Dr. Porter over the years since 1988. His unique approach to medicine has fixed migraines, lower back issues, Gout problems, stressors in different areas of the body, as well as
just regul
by
Janet DeLano
xxx.xxx.210.20
January 07, 2015
I value Dr Porter's opinions above all other Dr's I have visited. I am currently at the MAYO in Rochester and still calling on Dr Porter.
Blessings Deborah Merboth
Recent Polls
Does this provider take that extra step to make you feel special?
Absolutely
by
Anonymous
xxx.xxx.219.179
March 20, 2014
Did this provider exaggerate his/her or abilities?
No, they went above and beyond what they told me they could do
by
Anonymous
xxx.xxx.183.4
January 06, 2014
Add a Review