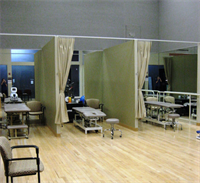 Nearby Specialists - Call Now sponsored
About The Jackson Clinics-Tysons
The Jackson Clinics offers outstanding care and skilled physical therapists in Mclean, VA. The licensed physical therapists have extensive experience in the health and wellness industry and provide individualized, hands on care. They design rehabilitation programs that have been proven to be effective treatment interventions. Some of the conditions they regularly treat include headaches, chronic neck and back pain, sports injuries, shoulder injuries, and shoulder pain. The physical therapists in Mclean, VA, offer many programs including aquatic outpatient orthopedic and sports therapy, shoulder rehabilitation, balance and fall prevention, and spine, back and neck care. The Jackson Clinics prides themselves on providing compassionate, personalized care and are always there for their patients.

If in need of a physical therapist in Mclean, VA please call the Jackson Clinics today.

Primary Specialty
Physical Therapist
Practice The Jackson Clinics-Tysons
Staff Holly Jahshan, PT, DPT, OCS, Clinic Director
Bridget Smith, Office Manager

Services The physical therapists in Mclean, VA at The Jackson Clinics are committed to helping their clients relieve their pain and recover as quickly and safely as possible. In order to meet clients needs and goals, the staff customizes a unique rehabilitation plan that will get them back in action at work as well as everyday function. If suffering from sports injuries, shoulder injuries, shoulder pain, headaches, or chronic neck and back pain, get the best therapy available today and call the Jackson Clinics in Mclean, VA at (703) 388-0288.



Consumer Feedback
View All

5

Reviews
Add a Review
Recent Reviews
Beware of the receptionist - she is one nasty person. I ended my therapy with them because of her. I would never refer any of my family and friends to go here. The therapists were good, but between th
After just a few appointments I could tell their advanced and sophisticated equipment was really helping in my recovery. I knew I'd be back to my old self in no time. I've never had to worry about th
Recent Polls
Do you feel that you could have received better service somewhere else?
Definitely not; I received the best service ever!
by
Anonymous
xxx.xxx.89.229
June 27, 2013
Did this provider answer all of your questions?
Yes
by
Anonymous
xxx.xxx.190.95
March 29, 2012
Add a Review