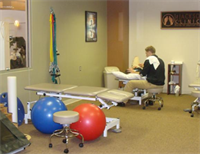 Nearby Specialists - Call Now sponsored
About The Jackson Clinics-Herndon/Worldgate
The Jackson Clinics is a state-of-the-art facility offering leading physical therapists in Herndon, VA. All of the skilled physical therapists utilize a proactive, individualized approach, with an emphasis on education and wellness that prepares patients to self-manage their condition and prevent future injury from occurring. Some of the physical therapy services available include outpatient orthopedic and sports therapy, shoulder rehabilitation, neck rehabilitation, as well as spine, back and neck care. The Jackson Clinics in Herndon, VA are on the "cutting edge" of rehabilitation and offer programs that promote and facilitate a rapid return to work and function. They specialize in sports injuries, sports therapy, neck and back pain, headaches, and neck injury and rehabilitation. All of the physical therapists have the training, knowledge, and motivation to relieve clients' pain through safe and effective care.

To schedule an appointment with a top physical therapist in Herndon, VA please call The Jackson Clinics at (703) 689-3164.

Primary Specialty
Physical Therapist
Practice The Jackson Clinics-Herndon/Worldgate
Staff Phillip Ratliff, PT, DPT, Clinic Director
Ruby Iglesias, Office Manager

Services At The Jackson Clinics in Herndon, VA, clients can expect individualized, hands on care. The dedicated team at The Jackson Clinics have successfully treated their clients suffering with chronic neck and back pain, sports injuries, shoulder pain, headaches, and much more. They educate clients on ways to improve their mobility and function and encourage them be an active participant in their care. For those in need of a physical therapist in Herndon, VA, The Jackson Clinics provides patients with the highest quality standard treatments and practices to ensure a safe and effective recovery.

Consumer Feedback
View All

11

Reviews
Add a Review
Recent Reviews
In just two appointments Ben diagnosed the problem and I was on the road to recovery. I had been using another PT company and after four months they couldn't figure out the problem.
by
Brian Bresnan
xxx.xxx.14.77
October 22, 2015
Have had PT prescribed for years in many differing states and this experience is the first one which has worked solidly. Kudos to my MD who insisted I travel there instead of next door, because they
Recent Polls
Does this provider use current and safe equipment?
Yes
by
Anonymous
xxx.xxx.70.210
August 17, 2016
Is this business handicap-accessible?
Yes, it was handicap-accessible
by
Anonymous
xxx.xxx.220.6
October 09, 2013
Add a Review