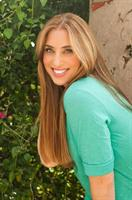 About Sunny LaValle, MS,RD,LD/N
Sunny LaValle is a registered dietician in North Miami Beach, FL, with over 10 years experience helping individuals learn about proper nutrition and eating to live a healthier, longer life. Sunshine Wellness, Inc. was established in 2004 and offers clients a new approach to heath and weight loss, without the frustrating yo-yo and fad diets. Through individual nutritional counseling, Sunny ensures that clients separate fact from fiction in all areas of nutrition and better understand food labels, food shopping, and healthy cooking for themselves and their family. Along with weight control, Sunny has been specially trained in renal nutrition as well as diabetes management. Services also include corporate health and wellness programs that boost business productivity as well as health of employees with a step-by-step lifestyle change program. Through small, realistic lifestyle changes clients will begin to feel more energized, have more zest for life, and look their very best.

If seeking the help of a dietician in North Miami Beach, FL, please call Sunny LaValle today and discover why so many of Sunny's clients are feeling younger and better than they have in years.


Primary Specialty
Dietitian - Nutritionist
Practice Sunshine Wellness, Inc.
Gender Female
Years In Practice 17
Education Masters of Science in Dietetics and Nutrition
Bachelor of Science in Dietetics and Nutrition
Training Accredited Internship at Jackson Memorial Hospital
Services As a dietician in North Miami Beach, FL, Sunny LaValle, has taught countless clients the secret to health and weight loss success. Sunny uses an integrated counseling approach, showing clients how to incorporate healthy eating into their busy lifestyle. After completing a thorough assessment of health, social history, medical history, lifestyle and daily calorie and nutrient requirements, Sunny will create a customized healthy eating plan with personalized food choices that will be easy to combine into any lifestyle. Sunny has extensive experience in diabetes management, renal disease nutrition, pediatric nutrition, weight loss and management, allergies and food intolerances, gastrointestinal disorders, and more. Instead of bouncing from one fad diet to the next, dietician, Sunny LaValle offers real solutions that actually work. Call today or visit the website to learn more.


Consumer Feedback
View All

2

Reviews
Add a Review
Recent Reviews
I went to see Sunny for my uncontrolled diabetes from a request from my doctor. i was recently diagnosed with Type 2 diabetes and felt very overwhelmed. She really helped me with all my diet concerns
Sunny helped me when no one else could. She has a wonderful approach to the "non-diet diet". She focuses on total health and improvement and really taught me about eating to live, not living t
Add a Review