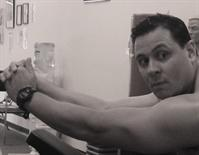 About Jose Fuentes, Director
Jose Fuentes is a personal trainer in Denville, New Jersey (NJ) at Shapes "R" In. Jose began his personal training career early, at the age of ten in Mexico City. By age 16, Jose's business had taken off, and he was helping numerous people reach their health and weight loss goals. As a leading personal trainer in Denville, NJ, Jose has the ability to target muscle groups for maximum muscle fiber recruitment. He uses the most modern techniques and listens closely to his clients to best meet their needs and help them achieve their goals. Anyone who is interested in making body transformations or lifestyle changes can benefit from Jose's extensive knowledge and experience with personal training, weight loss and nutritional counseling. In addition to working as a personal trainer in Denville, NJ, Jose has also competed in the prestigious Natural Eastern Classic Body Building Contest and the Natural Forever Amateur Body Building Association Event, and was the Natural Grand Spoken Person for the Experimental and Applied Sciences Supplements Company. His health and nutrition writing can be found in national magazines such as Best Body and Men's Exercise, as well as online in several health newsletters.

For personal training, weight loss or nutritional counseling in Denville, NJ and greater Morris County, please contact Jose Fuentes at Shapes "R" In and get started today.
Primary Specialty
Personal Trainer
Practice Shapes "R" In
Gender Male
Certification Master Certification, The International Federation of Personal Trainers Association
Services At Shapes "R" In in Denville, New Jersey (NJ), skilled personal trainer Jose Fuentes offers nutritional counseling, senior training, sports/athletic conditioning and weight loss. Jose teaches isokinetics, isotonics, strength training, isometrics, hypertrophy stimulation and plyometric techniques. He also offers body fat analysis at Shapes "R" In, which helps both Jose and his client understand what work is needed for a total body transformation. Jose's background in body building, martial arts, basketball and long-distance running have given him an edge in the field of personal training, allowing him to help his clients lose weight, get healthy and make major lifestyle changes.

For the top personal trainer in Denville, NJ, call Shapes "R" In at (973) 586-3222 and schedule an appointment with Jose Fuentes today.

Consumer Feedback
View All

5

Reviews
Add a Review
Recent Reviews
The exercise routine they created for me was great. I was challenged, but not discouraged, and I looked forward to workouts. Jose is very knowledgable
Recent Polls
Was this provider willing to stay open late to accomodate your needs?
Definitely! They would never turn away anyone in need
by
Anonymous
xxx.xxx.246.206
February 22, 2013
Was this provider's office too cold?
No, it was fine
Add a Review