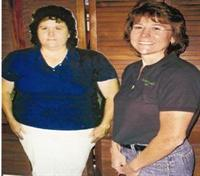 About E-Z Nutrition 101 johnson, owner
Lisa Johnson is a nutritionist in Tavares, Florida (FL) at E-Z Nutrition 101. Lisa supplies and sells Herbalife products, and provides nutrition counseling for individuals who want to lose weight, gain weight or maintain their current weight. Lisa's own weight loss experience is what has motivated her to help others accomplish their weight loss goals. She has overcome Type 2 diabetes and high blood pressure in addition to losing 107 pounds since beginning her regimen. Lisa has kept the weight off for four years, and she hopes to motivate her clients to do the same.

Those seeking help with weight loss in Tavares, FL, should contact nutritionist Lisa Johnson at E-Z Nutrition 101 and get started today.
Primary Specialty
Weight Loss Consultant
Practice Lisa Johnson
Gender Female
Services As a leading nutritionist in Tavares, Florida (FL), Lisa Johnson provides nutrition and weight loss counseling at E-Z Nutrition 101. Her goal is to help her clients learn the importance of good nutrition and regular exercise, and to help them reach their health and wellness objectives. Lisa offers solutions, motivation and education in a friendly, encouraging environment. She strives to provide weight loss counseling in Tavares, FL that is both affordable and effective. At E-Z Nutrition 101, Lisa supplies and sells Herbalife products, and offers wellness evaluations, nutrition counseling and a 12-week weight loss challenge.

For an experienced nutritionist in Tavares, FL, please call Lisa Johnson at E-Z Nutrition 101 to schedule a free initial consultation, or visit her website for details.

Consumer Feedback
View All

16

Reviews
Add a Review
Recent Reviews
Lisa at EZnutrition was evry helpful and cares about her client weightloss goals.
I was in awe at the level of service I received. They completely surpassed all my expectations and I will absolutely be going back. They've never been late to any of my appointments. I've even showed
Recent Polls
Was the staff at this weight loss facility friendly?
Yes, they went above and beyond
by
jeannette
xxx.xxx.182.10
March 28, 2014
Was this provider's office clean?
Yes! I was amazed at how clean it was!
Add a Review