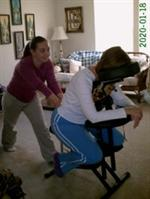 About Kimberly Brand, CMT
I have been practicing for 5 years. I have extra training in geriatric massage, lymphatic/circulation massage, hot stone massage and reflexology.
Primary Specialty
Massage Therapist
Practice A Brand New You Massage
Gender Female
Services Kimberly Brand, CMT is a Massage Therapist in Indianapolis, IN. A Massage Therapist uses massage to treat patients. A massage therapist needs a license to practice, which can be obtained after a training program. Massage therapists can work for a spa, clinic, or in private practice.

Please call Kimberly Brand, CMT at (317) 730-3227 to schedule an appointment in Indianapolis, IN or to get more information.
Consumer Feedback
View All

2

Reviews
Add a Review
Recent Reviews
Everything they told me in the beginning ended up turning out exactly the way they said it would. They were able to provide me everything they promised me. I've never doubted their abilities. I love t
Whenever I make an appointment, I'm always confident that they're going to be ready for me at my scheduled time. At other places I've been to, it's always bothered me when they postpone my appointment
Add a Review