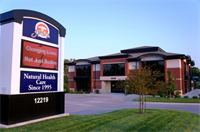 About David Jernigan, DC
We utilize the most advanced understanding of biophysics and not only use the latest in scientific advances, but we also train other doctors to do the same. It is not the tools that make a doctor unique; it is his/her perspective of what must occur in order for health to be restored. If you are sick, we are here to help. If you are well, we can still help you reach and maintain your optimum health.

Whether we use botanical or nutritional supplements, essential oils, a cold laser, NeuroPhotonic therapy, Magnetic Resonance therapy, gentle chiropractic adjustment, or detoxification therapies, all work to restore the integrity of the body's crystalline matrix, which will enable the body to get back to the business of maintaining health instead of fighting disease.

Our doctors utilize a variety of treatments during an office visit. For your program, these may include:

* Addressing microbes, allergies, chemical imbalances
* Magnetic Resonance Bio-oxidative Therapy
* Gentle Chiropractic Techniques
* Low-Level Cold Laser Therapy
* Myofascial Release Therapy
* Visceral Manipulation
* Glandular Therapy
* Cranial-Fixation Therapy
* Chinese Herbal Medicine
* Applied and Clinical Kinesiology
* Sacrum-Occipital Technique
* Homeopathy, Isopathy, Tautopathy
* Nutrition, Cleanses/Fasts
* Neurological Reflex Balancing
* Dietary Counseling
* Controlled Fasting Therapies
* Counseling/Prayer
* Detoxification Protocol & Bath Therapies
* Neuro-Emotional Clearing
* Quiet Mind Training
* Proprio-Mechanoreceptor Alignment
* Color Therapy
* Percussion Therapy
* Neuro-Lymphatic Balancing
* Botanical Medicine
* BRADE Allergy Desensitization
* Meridian Therapy
* Biosonic Repatterning (Sound)
* Essential Oils

Infrared Sauna

Specially selected infrared waves can penetrate the body up to 4 inches. These rays target the tough-to-reach heavy metals and chemical toxins lodged in the fat cells and tissues of the body, systematically targeting increased lymphatic drainage. The perspiration from this type of sauna contains more toxins than the perspiration from physical exertion.

ST-8 Lymphatic Drainage Machine

Combines four treatments in one machine:
(1) Cold-gas photon therapy, which liquefies old gelatinous lymph fluid,
(2) Rife-frequencies that sweep continuously from 1 hertz to lightwave frequencies, assisting the body in killing pathological microbes and restoring health and energy to the tissues,
(3) Transdermal ozone provides increased oxygen to the tissues, enhancing every tissue function to achieve its best with maximum oxygen, and
(4) a Scalar Wave generator enables the degenerated cells in the body to plump up and pull away from each other so that they can identify and communicate between each other.

IonCleanse

An FDA approved device which uses an energizing metal array that sits in the water with the feet. This array creates a super-concentration of electrical ions (negative or positively charged particles) in the water. The heavy metals and toxins in the body are dislodged and migrate towards the feet and out into the water. Once in the footbath water, the toxic materials excreted from the body appear, greatly discoloring the previously clear water.

LUX Therapy

This photo-matrix therapy incorporates over a dozen gemstones and minerals which are transduced into electromagnetic energy as well as using light, color, and frequency modulation to cause profound restorative and healing effects in the body, mind, and spirit. Gemstones were used to optimize the human heart's receptivity to hearing and communicating with God in the Bible in Levitcus.

Primary Specialty
Holistic Care
Practice Hansa Center for Optimum Health
Gender Male
Years In Practice 21
Education * Paracelsus Biological Medicine Network, based at the Marion Institute, Advanced Studies in Biological Medicine , 2005 2005

* Cleveland Chiropractic College
Doctor of Chiropractic

* Klinghardt Academy of Neurobiology
Studies with Dr. Dietrick Klinghardt, MD, in the natural treatment of Lyme Disease.

* Park University
BS, Nutrition
Training Research Presented:
12th International Scientific Conference on Lyme Disease and other Tick-borne Disorders, March, 1999 NYC
Staff Dr. David Jernigan
Dr. David Jowdy
Staff therapist and support team
Affiliations * Amercian Biological Medicine Association
* Occidental Institute Research Foundation
* IWOC Fellow
Certification Books Published:
Beating Lyme Disease 2nd edition: Living the Good Life in Spite of Lyme, 2008
Everyday Miracles by Gods Design, 2006
Beating Lyme Disease Using Alternative Medicine and God-designed Healing, 2004
Surviving Lyme Disease Using Alternative Medicine, 1999

Developer of the diagnostic and treatment technique Bio-Resonance Scanning and a whole new concept in medicine called Circuit Healing
Services Hansa Center for Optimum Health offers Holistic Care in Wichita, KS. Holistic Care is total patient care: physical, emotional and spiritual. Holistic care includes acupuncture, herbal medicine and shiatsu.

Please call David Jernigan, DC at (316) 686-5900 to schedule an appointment in Wichita, KS or to get more information.
Consumer Feedback
View All

4

Reviews
Add a Review
Recent Polls
Did you leave the office feeling satisfied with your visit?
Yes
by
Anonymous
xxx.xxx.3.134
August 22, 2014
Did this provider seem up-to-date with the current advancements in their field?
They seemed to know enough
by
Anonymous
xxx.xxx.255.221
January 14, 2013
Add a Review