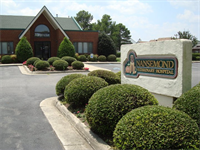 Nearby Specialists - Call Now sponsored
About Nansemond Veterinary Clinic
We believe that keeping your pet healthy is a cooperative effort between you and your veterinary hospital. We exist to help you in any way that we can in order to keep your pet in as healthy a condition as possible and to assist you in maintaining an enjoyable relationship with your pet.
Primary Specialty
Veterinarians
Practice Nansemond Veterinary Clinic
Services
Our 4,000 square foot, AAHA-approved modern facility offers a full service hospital, grooming station, an in-house diagnostic lab, and kennels for boarding. Health services we provide range from general wellness care to specialized techniques including surgery, radiography, electrocardiography, and dentistry. To enable us to employ these procedures, we maintain an inventory of the most up-to-date equipment as well as a staff of veterinarians and licensed technicians who regularly attend continuing education programs.