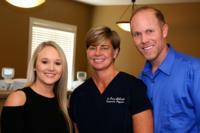 About Sheri Nesmith, DC
Chiropractic for adults, children, and babies
Physical Rehabilitation
Digital X-rays
Trigger Point Therapy
Durable Medical Equipment
custom fit orthotics for feet
Disc Decompression



Primary Specialty
Chiropractor
Practice Morgan Chiropractic
Gender Female
Years In Practice 6
Services Sheri Nesmith, DC practices at 3054 MORGAN RD, BESSEMER, AL 35022. Chiropractors diagnose and treat common spinal misalignments that can occur from lifestyle or injuries causing pain, discomfort and degenerative conditions.

Sheri Nesmith, DC may be able to treat; back pain, sciatica, neck pain, shoulder pain, headaches, sports injuries, and auto accident injuries.

To learn more, or to make an appointment with Sheri Nesmith, DC in BESSEMER, AL, please call (205) 424-8400 for more information.
Additional Services chiropractor, back pain, neck pain, decompression therapy, sciatica, headaches, hip pain, cold laser therapy, weight loss, lipo laser spot fat reduction
Consumer Feedback
View All

10

Reviews
Add a Review
Recent Polls
Did this chiropractor answer all of your questions?
Yes
by
Anonymous
xxx.xxx.113.22
May 07, 2014
Would you recommend this chiropractor to others?
Absolutely Not
by
anonymous
xxx.xxx.6.35
April 20, 2014
Add a Review