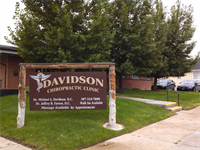 About Davidson Chiropractic Clinic
We specialize in neck, midback, and low back injuries, sports injuries, and family care for both young and old. From disc injuries to back aches to migraines. We accept walk-ins and most insurances.
Serving Carbon County, Wyoming (including Rawlins, Sinclair, Wamsutter, Hanna, Saratoga, Encampment, Elk Mountain).
Primary Specialty
Chiropractor
Practice Davidson Chiropractic Clinic
Years In Practice 15
Services Davidson Chiropractic Clinic practices at 801 West Maple Street, Rawlins, WY 82301. Chiropractors diagnose and treat common spinal misalignments that can occur from lifestyle or injuries causing pain, discomfort and degenerative conditions.

Davidson Chiropractic Clinic may be able to treat; back pain, sciatica, neck pain, shoulder pain, headaches, sports injuries, and auto accident injuries.

To learn more, or to make an appointment with Davidson Chiropractic Clinic in Rawlins, WY, please call (307) 324-7000 for more information.
Consumer Feedback
View All

2

Reviews
Add a Review
Recent Polls
Did this provider seem up-to-date with the current advancements in their field?
Yes
Were the chiropractor's hands uncomfortably cold during your treatment?
Not at all! I was very comfortable during my entire treatment
Add a Review