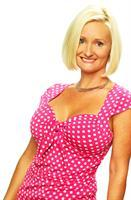 About Jill Fischer - Peters M.S.W., L.S.W., L.C.S.W., L.I.S.W., Ph.D ABD, Psychotherapist/ President
Jill A. Fischer - Peters M.S.W., L.S.W., L.I.S.W., L.C.S.W., Ph.D ABD, focuses on the evaluation, prevention, diagnosis, and treatment of mental health issues and is concerned with the different aspects of behavior and mental processes. She utilizes psychotherapy and other
counseling skills to improve emotional and mental health.

Dr. Fischer - Peters performs psychotherapy with children from age 3yrs. - 12yrs., adolescents 13yrs. - 18yrs and Adults of all ages. Therapuetic Models utilized in counseling/ psychotherapy by Dr. Fischer - Peters are eclectic in nature, treatment methods vary depending upon unique symptomology of each unique patient. Living Well Psychotherapy is locationed in Seminole, Florida where Dr. Fischer - Peters practice primarily consists of: (50%) Depression & Anxiety, Drug & Alcohol, Relationship Issues & Family Therapy, (30% Children & Child Custody Court Cases and disability Cases), (20 misc.) cases.Jill A. Fischer - Peters M.S.W., L.S.W., L.I.S.W., L.C.S.W., Ph. D ABD performs: Individual, Couples, Marraige, Family and Group therapy. Dr. Fischer - Peters treats the following problems, disorders and mental conditions:

Mood Disorders: Generalized Anxiety Disorders, Panic, Obsessive Compulsive, Panic Disorders, Social Phobia, Acute Anxiety Disorder, Post Traumatic Stress Disorders, Depression, Dysthymic Disorder, Bi - Polar I and II Disorders, Intermittent Explosive Disorder, Schizoaffective Disorder, Schitzophrenia, Conversion Disorder, Somatoform Disorder, Anorexia and Bulimia Nervosa, Bereavement & Grief.

Addictions: Abuse & Dependency of: Alcohol, Cannabis, Cocaine, Poly Substance, Gambling, Sex addictions & Co-Dependency.

Childhood Disorders: Seperataional Anxiety, Attention Deficit / Hyperactivity Disorder, Oppositional Defiant Disorder, Conduct Disorder, School Problems, Adjustment Disorders, Coping with Divorce and Self Esteem Problems.

Personality Disorders: Narcissistic, Borderline, Dependent, Histrionic, Antisocial, Paranoid, Avoidant, PD NOS
Domestic Violence & Power & Control: Child Sexual Abuse & Physical Abuse.

Relationship Disorders: Couples, Marriage, Family, Parent- Child Relational Problems, Partner Relational Disorders

Occupational Problems, Leagal Problems, Financial Problems

Christian Counseling


Jill A. Fischer - Peters M.S.W., L.S.W. L.I.S.W. L.C.S.W. Ph. D ABD did her graduate work at the University of Pittsburgh, specializing in Dual Diagnosis Disorders of Menal Illness and Drug and Alcohol where she recieved her Master's degree. After, she continued on to her Ph. D Graduate program in Psychology, her specialization was in Marraige & Family Therapy. Dr. Fischer - Peters has testified as a qualified Expert Witness in the Judicial Court Systems for the past 14yrs in both Florida and Pennsylvania. Dr. Fischer - Peters has lectured all over the country at various Universities, Hospitals and Businesses on issues of: Domestic Violence, Victims of Verbal, Physical & Sexual Abuse . In 1998, she was voted favorite speaker of the year. Dr. Fischer Peters has served as an Independent Contractor and Consultant, assessing the safety needs of children's needs of children. Dr. Peters also taught ethics and regularly worked with graduate schools, supervising undergraduate and graduate level interns.

AWARDS & HONORS:

Who's Who Among American Students
Who's Who Among American Professional Women
National Honor Society Psychology: Phi - Chi
National Honor Society Psychology: Psy - Beta
Pittsburgh Pennsylvania: Voted Favorite Presenter and Speaker


MEMBERSHIPS:

Network of Christian Counselors Associations
National Association of Social Workers: Clinical Private Practice


State License:

Florida
Pennsylvania
Ohio
Primary Specialty
Psychologist
Practice Living Well Psychotherapy Associates Incorporated
Gender Female
Years In Practice 20
Education LaRoche College Under Graduate Work
University of Pittsburgh Graduate Work
Affiliations St. Francis Medical Center
Mercy Hospital
Passavant Hospital
Tampa General
Suncoast Hospital
Palms of Pas Hospital

Certification AWARDS & HONORS:
Who's Who Among American Students
Who's Who Among American Professional Women
National Honor Society Psychology: Phi_Chi
National Honor Society Psychology: Psy _ Beta
Pittsburgh Pennsylvania: Voted Favorite Speaker

MEMBERSHIPS:
Network of Christian Counselors Associations
National Association of Social Workers: Clinical Private Practice



State License:

Florida
Pennsylvania
Ohio
Colorado

Payment Options
Cash and/ or check
Services Jill Fischer - Peters M.S.W., L.S.W., L.C.S.W., L.I.S.W., Ph.D ABD, Psychotherapist/ President is a Psychologist office located in Seminole, FL. A psychologist focuses on the evaluation, prevention, diagnosis, and treatment of mental, emotional and behavioral health issues. A clinical psychologist uses psychotherapy and other counseling skills to improve emotional and mental health.

Please call Jill Fischer - Peters M.S.W., L.S.W., L.C.S.W., L.I.S.W., Ph.D ABD, Psychotherapist/ President at (727) 391-9800 to schedule an appointment in Seminole, FL or to get more information.
Additional Services Social Work
Consumer Feedback
View All

14

Reviews
Add a Review
Recent Reviews
Exceptionable because my teen age daughter doesn't talk to anyone, not me or prior counselors, but she loves talking to Dr. Fischer Peters. I am not sure what she does, but the difference in my daughter when she comes out is great.
I couldn't believe it, Dr. Fisher Peters spent 30 minutes with my daughter and then she and my daughter invited me into the office session. I was in total disbelief at how much knowledge Dr. Peters had re my daughter in that short of time. It is as if she knew her all of her life and was not only able to explain what was going, but how and why it came to be and she was spot on. I don't know how its possible to have that much insight in that amount of time, but I left with tears in my eyes, mostly relief that we found her and she was that perceptive. My daughter really liked her and I am more impressed that I can find the words to express.
Recent Polls
Was the provider's staff helpful and knowledgeable?
Yes
Does this psychologist promptly return your phone calls?
Definitely! They always call me back very quickly!
Did this psychologist have reasonable prices?
Absolutely!
Would you recommend this psychologist to others?
Yes
Did this psychologist answer all your questions?
Yes
by
jacki mcclaskey
XXX.XXX.19.79
February 24, 2014
Did this psychologist have an entertaining selection of waiting room magazines?
Yes
Has this psychologist ever cancelled your appointment on you last minute?
They try not to, but sometimes it happens.
Was it easy to find parking at this provider's office?
Yes, it was convenient
Was it clear that this provider takes pride in the appearance of his/her office?
Yes, the office was well organized and taken care of
Does this provider always take that extra step to make you feel special?
Not really, I've never seen them go above and beyond
by
Anonymous
XXX.XXX.96.140
January 21, 2014