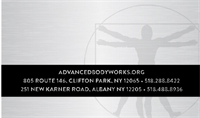 About John Mitchell, LMT, CPT, NC, Owner
John Mitchell practices as a massage therapist in Clifton Park, New York (NY), offering relaxing techniques that rejuvenate clients bodies, minds, and spirits. He uses therapeutic techniques such Swedish, deep tissue, hot stone, and medical massage to help clients achieve pain relief, increase joint range of motion, and recover faster from injuries. Mitchell's Advanced Bodyworks Massage Therapy and Fitness Studio also provides personal training programs to help clients reach their wellness goals.

John Mitchell's extensive knowledge in both massage and fitness will help individuals recover and heal faster. Whether interested in massage therapy, rehabilitative exercises, or fitness training, John Mitchell can provide a full range of services that will get clients back to optimal health


Primary Specialty
Massage Therapist
Practice ADVANCED BODYWORKS(Massage-Fitness-Nutrition)
Gender Male
Affiliations ABMP
Payment Options
Cash and Credit
Services John Mitchell is a massage therapist in Clifton Park, New York (NY). His advanced therapeutic techniques promote relaxation and a sense of well-being. John offers a wide array of techniques such as deep tissue, medical massage, hot stone, Swedish, and reflexology. He also offers personal training services and helps his clients get into the best shape they have ever been.


Consumer Feedback
View All

11

Reviews
Add a Review
Recent Polls
Did this provider give the impression that they cared about your concerns?
Yes
by
Anonymous
xxx.xxx.130.37
June 11, 2014
Does this provider promptly return your phone calls?
Yes
by
Anonymous
xxx.xxx.97.45
September 23, 2013
Add a Review