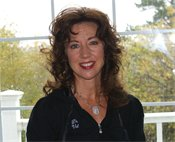 About Valerie Nelson, Naturopathic Doctor, Board Certified
Dr. Valerie Nelson is a Board Certified Naturopathic Doctor located in Bridgeville, Pennsylvania (PA) 15017 and has degrees in herbology and nutrition. She specializes in treating thyroid disorders; fibromyalgia; arthritis; depression; ADD and anxiety. She offers the very best detoxification programs, such as Ionic footbaths, that will pull parasites, yeast, and heavy metals out of the body. Dr. Valerie Nelson offers homeopathic remedies to her clients seeking a naturopathic doctor in Bridgeville, Pennsylvania (PA) that will induce the healing potential of the body.

In addition to being a Naturopathic Doctor, Dr. Valerie Nelson is a Master Herbalist; Board Certified in Integrative Medicine and has a Certified Nutritional Counseling degree. Clients can expect a very warm, relaxing environment, where they will feel right at home. She spends time with her clients to find the root cause of the problem and offers solutions that will improve overall health. Dr. Nelson is dedicated to helping individuals find answers to their health problems and for those who want to maintain good health. She has been described as the "people's doctor" with her natural compassion and caring that she shows to her clients. Children love her too.

You will find her wellness clinic very inviting. She offers massage therapy. She states that massage therapy coupled with a detoxification session makes for an incredible relaxing detoxification experience. Walk-in's welcome. If you come into the wellness center, you can have a seat in the comfortable waiting room and look up health conditions in the booklet that she wrote called "ABC's to Natural Medicine". In this booklet, you look up any condition that you have and it will tell you what her top recommendations are. You can then decide if you would like to give her products a try. Many of the products in the center have been specifically created and customized just for her clients.

As far as massage therapy goes..... Jenna, is very attentive to her client's needs and works very hard to customize each massage to give the client the service that they deserve. You will not find a massage therapists who cares for her clients more than her. She is definitely worth a try, as she will make you melt like butter!

If you have never had a 'good' ionic footbath session before, you should really get a session done at this wellness center. There have been so many incredible stories of good results that individuals have had doing a detox session.

You will not find a more attentive experience from a Holistic Doctor as you will here! It is definitely worth a visit!


Primary Specialty
Naturopathic Doctor
Practice Abundant Life Wellness
Gender Female
Years In Practice 9
Education Naturopathic Doctor
Board Certified Integrative Medicine
Certified Nutritional Counselor
Master Herbalist
Certified Natural Health Professional
Massage - Therapeutic
Certification Naturopathic Doctor

Board Certified In Integrative Medicine

Master Herbalist

CNHP

Certified Nutritional Counselor
Payment Options
Cash, Check and All Major Credit Cards
Services Come enjoy one of the best Massage Therapy sessions you will ever have! Enjoy a relaxing ionic footbath detox session in a comfy leather chair while sipping on a cup of warm herbal tea.

Want to have an evaluation from a Naturopathic Doctor who has personally worked with over 1,000 people? Dr. Valerie Nelson specializes in biofeedback; applied kinesiology (muscle testing); food allergy testing; PH balancing and nutritional counseling. She has developed many of her own products.

Many consider her a homeopathic doctor, a naturopathic doctor and/or a holistic doctor.

Her Wellness Clinic is located at 423 Chartiers Street in Bridgeville, PA 15017


Additional Services Massage Therapist Naturopathic Doctor
Consumer Feedback
View All

39

Reviews
Add a Review
Recent Reviews
I became ill back in Dec. after a very simple, (so I was told) surgery. Knee scope…. I was told a week to 10 days recovery. Around 2 weeks later my upper body started to decline -- my arms and hands
by
M. Lacey
XXX.XXX.193.189
June 08, 2014
My 10 year old daughter has a history of anxiety that started when she was very young. What started as "separation anxiety" as a toddler became more severe as she got older. She was anxious around lar
Recent Polls
Did the waiting room furniture appear to be clean?
Yes
by
Anonymous
XXX.XXX.252.15
November 07, 2014
Would you refer this provider to a family or friend?
Definitely
by
Anonymous
XXX.XXX.113.221
October 04, 2014
Add a Review