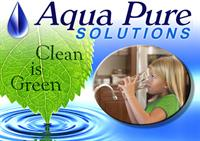 About Brian Stusalitus, Manager
Aqua Pure Solutions is a water purification company that cares about your health and well-being and offers a free water analysis of your tap water. Our technicians test city or wells for Hardness, Heavy Metals, Sulfur, Chlorine, TDS, PH and Soap.

We test your water at no cost due to the severity of the oil contamination in the Gulf disaster and other pollution sources. Your tap water should be tested with various tests to determine exactly what you're actually drinking or bathing in.

Please call us to set an appointment for this great opportunity to learn about nature's most abundant element essential to life.

Aqua Pure Solutions
36 Ellington St
Port Charlotte, FL 33953
Office: (941) 366-3020
Email: b.aquapurellc@gmail.com

Service areas: Sarasota, Bradenton, Myakka, Venice, North Port, Estero, Fort Myers, and expanding.

We are available 9-5 PM in office or 7AM-8PM for your water analysis.

Thank you! "Each day is a gift, unwrap it and enjoy!"
Primary Specialty
Uncategorized
Practice Aqua Pure Solutions (Water Purification)
Gender Male
Services