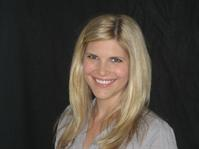 About Amber Wilson, MS, RD
Amber Wilson is a nutritionist in South Lake Tahoe, CA. Amber offers many convenient services such as cooking classes and supermarket tours to inspire individuals and families to make small lifestyle changes for a lifetime of health and happiness. She offers her special programs to a many clients ranging from engaged couples and newlyweds to expecting mothers and families.Amber Wilson tailors her nutrition programs to fit each clients specific needs and goals. NewLife Nutrition is an expert resource to provide personalized consultations that will inspire clients to make lifestyle changes that last. Amber makes it her goal to show her clients of living a healthy lifestyle and Encourages healthful, tasty food one kitchen at a time. If you are looking for a nutritionist in South Lake Tahoe, CA, please call Amber Wilson today.


Primary Specialty
Dietitian - Nutritionist
Practice NewLife Nutrition, LLC
Gender Female
Years In Practice 13
Education BS Physiological Science - UCLA
BS Nutrition Science - University of Illinois, Chicago
MS Nutrition Communication - Tufts University
Training Northwestern Memorial Hospital
University of Illinois Medical Center
Affiliations American Dietetic Association, California Dietetic Association, Nutrition Entrepreneurs Practice Group, Food & Culinary Professionals Practice Group, Women's Health Practice Group
Certification Registered Dietitian
Services
NewLife Nutrition offers individuals, couples and groups the expertise of Amber Wilson, nutritionist in South Lake Tahoe, CA. In addition, Amber Wilson hosts cooking classes and cooking parties with pantry cleanouts to help offer meal ideas to build a better you.