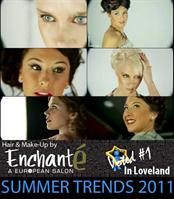 About Enchante A European Salon
.A European Touch, Bring Out Your Beauty
Our team of specialists provides each client with a cutting-edge signature style that you will absolutely love. We specialize in the latest haircutting techniques, hair color, highlights,human hair extensions, keratin complex smoothing therapy, updos, makeup application, facial threading, full body waxing, manicures, pedicures and massages.
We, at Enchante A European Salon, will teach you how to create and maintain your unique individual style; enhancing and transforming your current style by taking into account your complexion, eye color, bone structure and even profession and lifestyle. Combining your desires and needs with our professional knowledge and ability. Enjoy complimentary beverages and sit back and relax while we treat you to your best salon experience!

Enchante A European Salon in Loveland, Colorado
Primary Specialty
Salon
Practice Full Service Salon
Gender Female
Education Murat Tercan, born in Ankara, Turkey and living the majority of his life in his home land trained himself in becoming a certified senior master and educator of hair design. He received formal education through the Ministry of National Education in Ankara and Paris where he received 3 years of training. He also has extensive experience as a LOreal Academy professional trained by world renowned European hair designers. His education and awards are listed below:

Education
At age 16, educated @ LOreal Academy in Turkey, completed in 1.5 years Continued education in Paris for hair design and seminars, completed in 2 years At age 19, Educated @ Wella Academy in Germany for Color Specializing, completed in 2 yrs. At age 22 in 2000, educated for color & cutting techniques in Germany @ Schwarzkopf, completed in 1 year.

Work
Murat has studied hair design in European cities including Paris, Rome, Barcelona, Vienna, Prague, Madrid, Milano and London and the knowledge he has gained over the years has made him a sought after talent in the global hair design market. Just recently, Murat attended a fashion show in London. The success that Murat has achieved in Europe and the United States lead Murat to dream bigger than he ever has before he was part of the owner of Tuana Hair Design and he moved on his journey with Enchante A European Salon in Loveland, Colorado was created.

Awards
Murat has competed in hair design in Paris and received many awards for Best Performance, Years Best and Best Creativity. He was rewarded Excell Master Artisan, and was a previous member of INTERCOIFFURE, an international elite upscale hairstylist organization, located in 65 different countries with over 200 members in United States. Intercoiffure designs hair creations for seasonal trends.
Certification Wella Professional

Bumbleandbumble

Obagi

Sebastian Professional
Services Hair Cuts
Hair Color
Highlights
Style
Permanent Change
Extensions
Threading
Waxing
Mobile Salon Services
SPA MENU

Make-Up
Hands and Feet
Massage
Facial
Additional Services
Consumer Feedback
View All Reviews
Add a Review
Recent Polls
Did this provider answer all your questions?
Every question I had was answered thoroughly
by
Anonymous
xxx.xxx.147.231
June 13, 2011