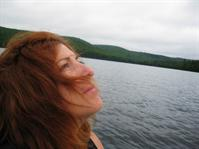 About Massage Therapy Boston
Compassion is the caring and thoughtful way I relate to my clients. I am dedicated to helping others through the healing touch of massage.

Your satisfaction is my number one goal. I firmly believe that massage therapy, whether used as preventative medicine, or in conjunction with more traditional forms of healing, can allow the client to progress to higher levels of physical and emotional well being. Massage therapy gives the body a chance to release stress, pain and emotional fatigue.
Massage has been found to be beneficial for a number of stress related and musculoskeletal conditions. Massage reduces stress and pain, increases flexibility, and range of motion. In addition it increases physical well-being, thus improving body image and self-esteem. Plus, it just feels good! Massage Therapy Boston offers many styles of massage such as Myofascial release, Hot Stone, Deep Tissue, Pregnancy and Scar Release therapies.

On your first massage visit, I ask that you come in 15 minutes early to fill out a health intake form. This is followed by an initial interview where I pay close attention to your needs so you receive the massage you expect. Soothing music and a private room enhance your relaxing massage. I use quality lotions, you can choose scented or unscented.

Call now to receive $10.00 off your first massage. Packages are also available with discounted prices.




Primary Specialty
Massage Therapist
Practice Massage Therapy Boston
Years In Practice 7
Education 750-hour hands-on Massage, Anatomy, Physiology, Ethics and Business training and was awarded a certificate of completion by the Cortiva Institute of Massage.
Training ~ Currently studying for the National Certification Board for Theraputic Massage & Bodywork (NCBTMB) and to be a nutritionist with Integrative Nutitrition. ~




Affiliations AMTA member
Certification ~ Completed Scar Tissue Release with Marjorie Brook
~ Completed Down To The Bone, Deep Tissue with Mary Gail Sullivan
~ Completed intro to Cranial-Sacral Therapy with Saskia Cote Nov. 2009
~ Completed a tutorial in Hot Stone Therapy with Saskia Cote
~ CPR (adult and infant) and First Aid certified

Services ~ Myofacial
~ Deep Tissue
~ Scar Tissue Release Therapy
~ Pregnancy Massage
~ Hot Stone Therapy
~ Abdominal Massage
~ Sinus Relief
~ Osteo-Arthritis Pain Massage
~Tendonitis (Tennis/Golf elbow)