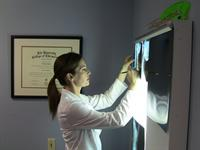 Nearby Specialists - Call Now
About Becky Campbell, DC
Treasure Coast Wellness Center is a integrated health practice. Dr. Campbell had a vision of creating a medical practice that treats every patient with dignity and first-rate medical care.

Our office is able to provide exceptional, consistent medical care with state of the art medical equipment, electronic medical records, and our well trained medical providers and staff.

The dedicated staff will work together as a team to provide high-quality, comprehensive care while paying close attention to each patient's needs.

Primary Specialty
Chiropractor
Practice Treasure Coast Wellness Center
Gender Female
Years In Practice 22
Staff Dr. Becky Campbell
Nannette Lewis (office manager)
Affiliations International Chiropractic Association
International Chiropractic Pediatric Association
Florida Chiropractic Association
Services Becky Campbell, DC practices at 529 SE Palm Beach Rd 102, Stuart, FL 34994. Chiropractors diagnose and treat common spinal misalignments that can occur from lifestyle or injuries causing pain, discomfort and degenerative conditions.

Becky Campbell, DC may be able to treat; back pain, sciatica, neck pain, shoulder pain, headaches, sports injuries, and auto accident injuries.

To learn more, or to make an appointment with Becky Campbell, DC in Stuart, FL, please call (772) 781-4044 for more information.
Consumer Feedback
View All

7

Reviews
Add a Review
Recent Polls
Does this provider leave you on hold for a long time when you call?
Never! I don't think I've ever been put on hold here for a long time
by
Anonymous
xxx.xxx.108.206
January 28, 2014
Was it easy to find parking at this provider's office?
Extremely easy, and close to the entrance
by
Anonymous
xxx.xxx.161.42
December 30, 2013
Add a Review