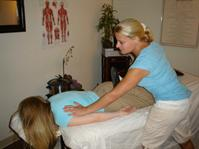 About Tami Olson, CLMT
Tami Olson is is an experienced massage therapist in San Luis Obispo, California (CA), specializing in trigger point therapy. Tami has helped many clients and athletes reach their health and wellness goals. With more than 9 years of experience as a massage therapist in San Louis Obisbo, CA, Tami Olson has acquired a vast amount of knowledge in massage, including specialized techniques such as trigger point therapy and myofascial release, to help eliminate or reduce chronic pain. As a former athlete and P.E. coach, Tami understands the stress an athlete can endure and delivers therapeutic techniques to help them heal and recover. She has worked with wrestlers, men and women's pro cycling teams, as well as with the San Jose Earthquakes Professional Men's Soccer Team. Whether the issues are knee injuries or carpal tunnel, Tami Olson, highly skilled massage therapist in San Luis Obispo, California (CA), can help.
Primary Specialty
Massage Therapist
Practice Massage Therapist
Years In Practice 15
Certification Licensing in Massage Therapy
Services As a leading massage therapist in San Luis Obispo, CA, Tami Olson has a great understanding of the human body and relaxing techniques that will provide fast relief to tension, stress, and chronic pain. Tami specializes in providing relief to client's and professional athlete's discomfort through a variety of massage techniques including medical massage, facial massage, chronic muscle pain therapy, trigger point therapy, myofascial release, and more. Tami is extensively trained in various treatment options to not only treat injuries, but also help clients manage and prevent future injuries from occurring.

Call Tami Olson, best massage therapist in San Luis Obispo, California (CA), at (805) 440-8194 to schedule an appointment.
Consumer Feedback
View All

6

Reviews
Add a Review
Recent Reviews
I was completely at ease during my appointment here. They went to great lengths to make sure I was completely relaxed and comfortable the entire time. They paid close attention to me and all of my qu
Back In The Saddle, And Then Some!
As a competitive cyclist, Tami has been instrumental in helping me recover from two injuries and has also greatly improved my capacity to benefit from intense trai
Recent Polls
Did you leave the office feeling satisfied with your visit?
Completely!
Did this provider answer all of your questions?
Every question I had was answered thoroughly
by
Happy Client
xxx.xxx.42.55
April 01, 2012
Add a Review