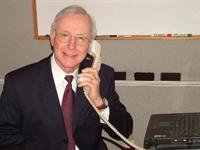 About Gerald Hall, CLU®, ChFC®, MSFS, AEP®
Jerry Hall has 30+ years of Financial Planning experience for both individuals and business owners. He participates in ongoing training and attends several educational seminars and conferences every year to stay abreast of new technologies and the latest news and information affecting his business.
Primary Specialty
Financial Counselor
Practice New York Life Insurance
Gender Male
Services
Financial planning is an on-going, lifelong process, not a one-time event. It requires fine-tuning goals, and adjusting to changing tax laws and financial environments. The Lifetime Financial Plan sets the route by which you travel. During our time together, we will perform your Net Worth Analysis, Cash Flow Analysis, Estate Planning, Investment Planning, Retirement Planning, Tax Planning, Education Planning and Risk Management Strategies. If you are a business owner, we also address Business Succession planning; Taxation of Income and Distributions for different types of Business Entities, Retaining and Rewarding Key Employees; Buy/Sell Agreements; Business Exit strategies, etc.
Additional Services Life Insurance, Retirement Planning, Business Planning